It took three years for the wider world to acknowledge it, but the Bundesliga's rise as the best European domestic league was emphatically announced by both Bayern Munich and Borussia Dortmund in their Champions League campaigns. Both taught English and Spanish sides a lesson, recording remarkable victories in the semi-finals before the vibrant final at Wembley last month.
Whereas the Primera Liga, with its duopoly and television money chasm, has shied away from promoting its product the Premier League hasn't, which is why Bayern's 4-0 battering of Barcelona and Dortmund's destruction of Real Madrid were such profound retorts to English football's arrogance. And away from the soulless brand plugging, there was one moment in Bayern's brilliant victory which defined their rise to becoming Europe's best side.
Since the 2010 World Cup Thomas Müller has gained an enviable reputation as a big game player. His goals against England and Argentina in the last 16 and quarter-finals with Germany were matched by strikes in this season's last eight and semi-final rounds of the Champions League, with the 2012 final header against Chelsea sandwiched in between. That consistency has overshadowed what is one of the most gifted attackers in world football, yet against Barça at the Allianz Arena it was his blatant barge on Jordi Alba which signalled the changing of the guard.
Alba, attacking, speedy, yet lightweight, is the quintessential Barcelona footballer. Müller, ruthless, crafty and talented, defines the Bayern prototype. When the pair collided, rather, when Alba rebounded off of Müller, and Arjen Robben slotted past Victor Valdés, it symbolised definitive Bayern's supremacy and brought Barcelona's era of hegemony to a close.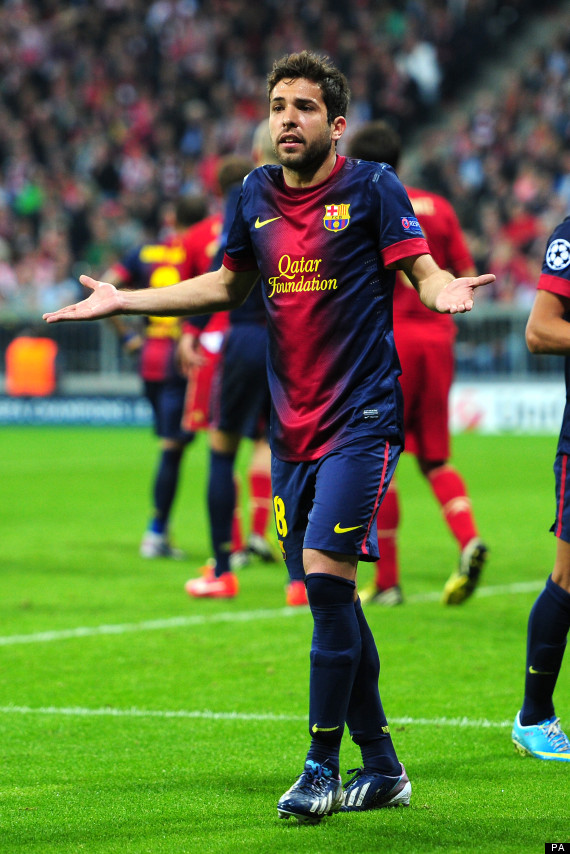 Alba was astonished Müller wasn't penalised
With Bayern already 2-0 up courtesy of a Müller strike and Mario Gómez header, it was paramount the Bavarians capitalised on their dominance. AC Milan had settled for a 2-0 win the previous round only to be obliterated 4-0 at Camp Nou. Barça's powers of recovery, although rarely needed, were resounding.
Milan's San Siro win merely patented the clichéd dangerous 2-0 lead Bayern held, however scarce it was to see them outplay Barcelona. José Mourinho's Internazionale, with their terrific triumvirate of Samuel Eto'o, Wesley Sneijder and Diego Milito, defeated the Blaugrana 3-1 three years ago at the same stage, but few had held a meaningful 3-0 advantage over this Barça. Real Madrid hit four Frank Rijkard's team in May 2008 but it was an irrelevant Clásico, since Madrid were already champions.
These factors contributed to the tremor Alba's tumble caused. Robben finished expertly past Valdés to raise the measure on the richter scale but Müller was the first player who had had the courage to bully the ostensibly invulnerable Barcelona and get away with it.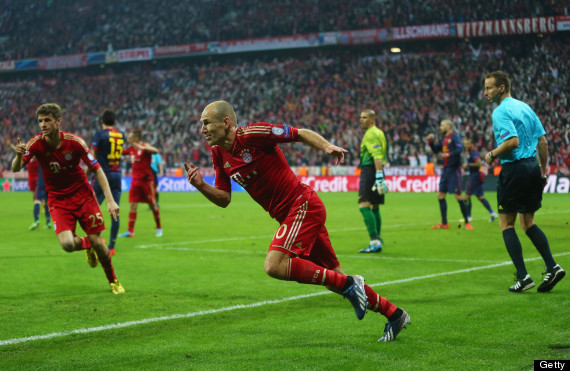 Müller and Robben celebrate the latter's strike against Barça
Already in the match Bayern had been denied three possible penalties, as Barça's infamous good fortune in Europe continued. Gómez's tap-in was actually finished from an offside position, but that was the linesman's call. Barcelona, used to having it their own way, were then denied what was a blatant free-kick and Robben compounded the injustice and outrage by making it three. It was as astonishing as it was satisfying to witness Barcelona, their hypocritical sanctimony now laced with indignant vitriol, f****d over.
However excellent a side Bayern were, it was immaterial. Few teams had the gumption or good fortune to progress past Barcelona in recent years. The two teams that had done - Inter and Chelsea - had players sent off at Camp Nou and hardly outplayed their opponents. Yet the Bayern behemoth battered, bullied and bulldozed Barcelona over two legs for a 7-0 mauling.
It was a hiding that had been coming for Barcelona, they just hadn't met a side that was not only good enough to match them, but better them. Or Müller them.