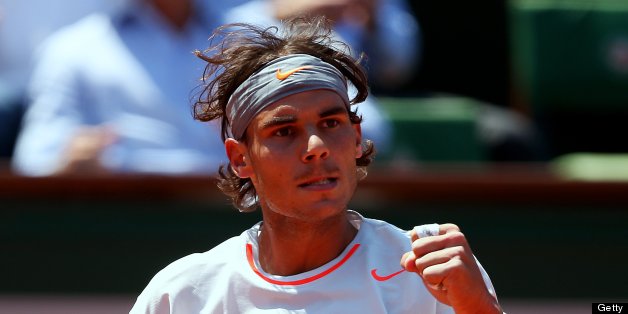 Getty
Rafael Nadal has reached his eighth French Open final in nine years after a five-set victory against world number one Novak Djokovic in a sensational semi-final.
The clay court king was in formidable form as he beat the Serb 6-4 3-6 6-1 6-7 9-7 in an engrossing, four hours and 37 minutes contest at Roland Garros.
Nadal now has the chance to become the first man in tennis history to win a Grand Slam title eight times, when he faces either Jo-Wilfried Tsonga or David Ferrer on Sunday.
For Djokovic, the French Open remains an elusive trinket as he bids to become the eighth man to win all four majors.
Spaniard Nadal has now won 43 matches and lost just two times since his return to the tour in February after a seven-month injury lay-off.
Nadal broke Djokovic at 4-3 before holding serve to see out the opening set in a repeat of the 2012 final.
The indefatigable Djokovic responded brilliantly in the second, breaking Nadal twice to level the match in what was becoming an enthralling spectacle.
And it got better when Nadal produced a virtuoso display in the third, dismissing Djokovic 6-1 in 37 minutes.
He appeared to be closing in on victory when he broke Djokovic at 4-3 again in the fourth, however Djokovic responded comprehensively with a 15-40 win, hitting two superb winners, to tie the set at 5-5.
The match suddenly became edgy and at 5-5 Djokovic, serving at deuce, hit two unforced errors to gift Nadal a crucial break and to serve for the set.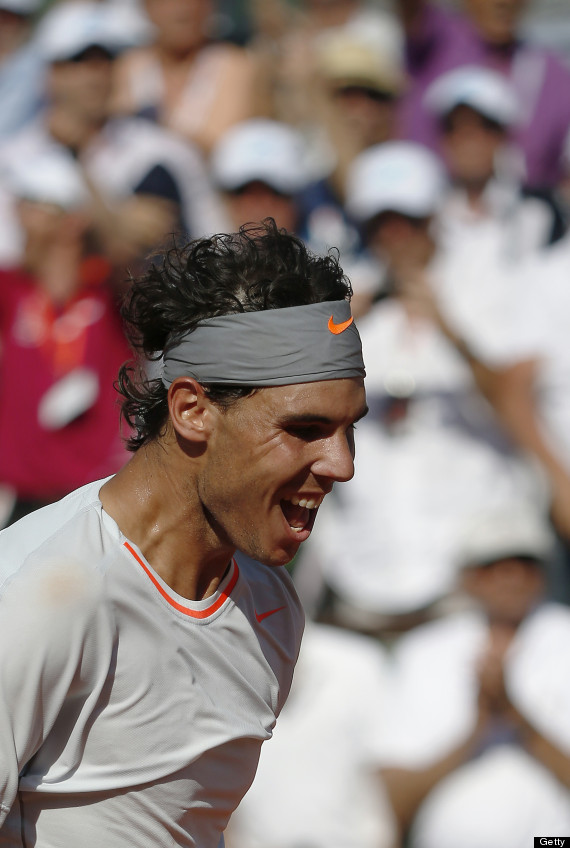 Nadal celebrates his victory against Djokovic
But the seesaw theme continued as Nadal failed to hold when two points away from a final berth and Djokovic milked the acclaim of the Parisiens ahead of a tie-break duel in the sun.
Djokovic banished the memory of his pair of errors to take command immediately and beat Nadal 7-3 to set up a fifth.
With serving becoming less of an advantage, Djokovic broke Nadal immediately in what was a tentative opening game from the seven-time winner in Paris. Nadal's frustration with the crowd calling out during a rally advertised his anxiety against the Djokovic juggernaut.
The Australian Open champion held his nerve until an extraordinary eighth game when the match, it turned out, hinged on one moment.
At deuce, Djokovic lost a point by touching the net after hitting a winning smash to grant Nadal advantage. Djokovic hopelessly protested the decision with the umpire, and although he saved two break points, Nadal broke at the third time of asking to tie it at 4-4.
The longest set edged over the hour mark, with Nadal's Herculean hitting buoyed by the break while Djokovic regrouped and regained his ruthlessness to hold two service games and stay in the match.
Yet the moment arrived at the third time of asking when Djokovic was broken without winning a point in the 16th game of a final frenetic set.
Nadal's sole loss in the last eight years at Roland Garros remains his fourth-round surrender to Robin Söderling in 2009.