David Suchet believes that Hercule Poirot's distinctive character traits have rubbed off on him.
The actor is waving goodbye to the screen incarnation of the Belgian detective created by the crime writer Agatha Christie after 25 years.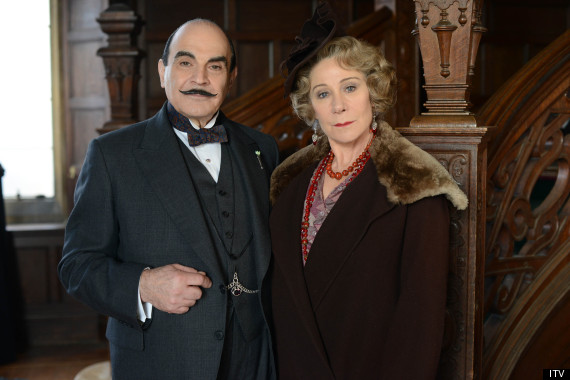 Poirot reunited with his old friend Ariadne Olivier (David Suchet and Zoe Wanamaker)
He has filmed his final scenes as the moustachioed sleuth and Curtain: Poirot's Last Case will be broadcast on ITV later this year.
"He's taught me to be a much better listener than I would have been had I never played him," he said.
Suchet said of the character's enduring appeal: "He's very respectful and he's very charming, but my son-in-law gave the best answer, which is that 'Poirot is enduring because he's a great moral compass and people would like to be him'.
"Whenever you watch him, as he sums up a case, you think the world is a better place."
Suchet kicks off his final series of Poirot outings with 'Elephants Can Remember' this weekend.
'Elephants Can Remember' has all the trappings that have made this particular set of adaptations so successful on a global scale - a literary dinner in a cream-coloured house, a tragic past whose secrets remain uncovered, and a Belgian detective with a pince-nez and a liking for citron presse who appears to know everybody with a country house in England, judging by the amount of times he is invited away for a jolly weekend.
Zoe Wanamaker will be reprising her role of Ariadne Olivier in the two-hour special, and other cast members include Greta Scacchi, Iain Glen, Vincent Regan, Ferdinand Kingsley and Vanessa Kirby.
Will you miss Poirot, or has another telly detective captured your affections? Let us know...
Poirot: Elephants Can Remembers is a one-off drama airing on ITV1 on Sunday 9 June. Pictures below...