Juventus have been told that they must wait until Real Madrid have appointed a new coach before they begin negotiations for striker Gonzalo Higuaín.
Directors from both clubs met on Sunday for the Classic Match, a charity game involving veterans of both sides at the Bernabéu and are believed to have discussed the future destination of the Argentina international.
Higuaín revealed to the media after the last game of the season that he wished to leave the club after six years.
However, Madrid are understood to be against making any further decision without the approval of the new coach.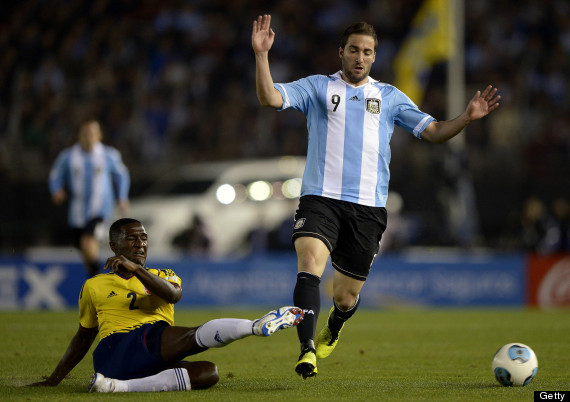 Higuaín in action for Argentina during their World Cup qualifier with Colombia last week
The favourite to take over from José Mourinho in the Madrid hotseat is the former Juventus boss Carlo Ancelotti, who is still under contract with Paris St. Germain.
Juventus director general Beppe Marotta told reporters: "Real Madrid have told us that Higuaín is not for sale and that no decision will be taken before the new coach arrives."
Madrid are understood to only be willing to listen to offers starting at €25 million (over £21m) for the 25-year-old, who has also been linked with a move to Arsenal.