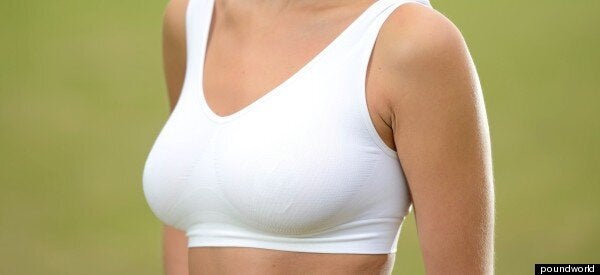 It's not the kind of bra you'd receive as a romantic gift (and if you do, then run like the wind), but the £1 bra from Poundworld has become a resounding hit after flying off the shelves. The bra, which hit stores on the weekend, sold over 100,000 in one day.
The bras have been criticised for their unglamorous look, but these may be from people with unrealistic expectations for something that costs less than a big bag of Walker's crisps.
We called in a sample of the Comfort Bra to test it out:
There's a sense of dejavu when I remove the bra from its packaging. That's because when looking at the one-piece item, devoid of straps or any underwire, it reminds me of My Very First Bra, a Tammy Girl crop top, to be precise.
This sounds like a negative but it isn't. Okay, so it technically is a supportive crop top rather than what I've come to call a bra, but it fits that twilight period of when I'm hanging out at home when guests are over or if I'm going to the local shops, and I don't want to wear a bra, but don't feel comfortable enough going commando.
There is some support but don't be fooled and wear it as a sports bra, because as I discovered when jogging on the spot, gravity will kick in, and the bra cannot answer back.
For a £1 bra that is made in China, it is high maintenance in the washing stakes - the label recommends hand wash only. Sizes come in medium, large and extra large, but medium is meant for sizes 8 - 10.
It's made out of 96% nylon and 4% spandex, so the support comes from its elasticity rather than tension between hooks at the back or adjustable straps. I'm not blessed in the chest department so for me support wasn't an issue, but for women with big cup sizes, this just isn't going to support their breasts or back sufficiently. Unless, of course, you're just wearing it at home.
It bills itself as a good post operative bra, and I can see why. After seven hours of wearing it, I don't feel the usual twinge that I do with a normal bra around my shoulders and sides and at no point does the elastic cut into my skin.
I remember paying £2.99 for a crop top back in 1993, so £1 for something exactly similar in 2013 is no bad thing at all.
Conclusion: Comfortable, snug, good value-for-money and a keeper.