Can things get any worse for Tulisa? Days after her arrest for allegedly plotting to supply the illegal Class A drug cocaine, it has emerged the former X Factor judge has had a massive prank played on her.
The 24-year-old is reportedly devastated after a multi-million pound deal to become a Bollywood superstar turned out to be an elaborate hoax.
The Sunday People has claimed people posing as film ­executives had promised her £8million to play a sari-clad British girl who moves from London to India. Tulisa has reportedly been set up
The troubled star was flown around the world by private jet during two months of ­negotiations and was preparing to announce the "deal" with a great fanfare last week, the paper claims.
However, it has all turned out to be a massive set up.
A friend told the paper: "Tulisa says that they have played with her life. She's shocked, destroyed and devastated. It still hasn't sunk in. She feels like she's been completely set up and that what has happened has messed with her life. She now feels like she can't trust anyone at all even some of her closest friends.
"She was so excited about ­making the big announcement. She even had the contract ready to sign."
The 'Female Boss' is currently holed up in her Hertfordshire mansion while on police bail and this weekend received some family support.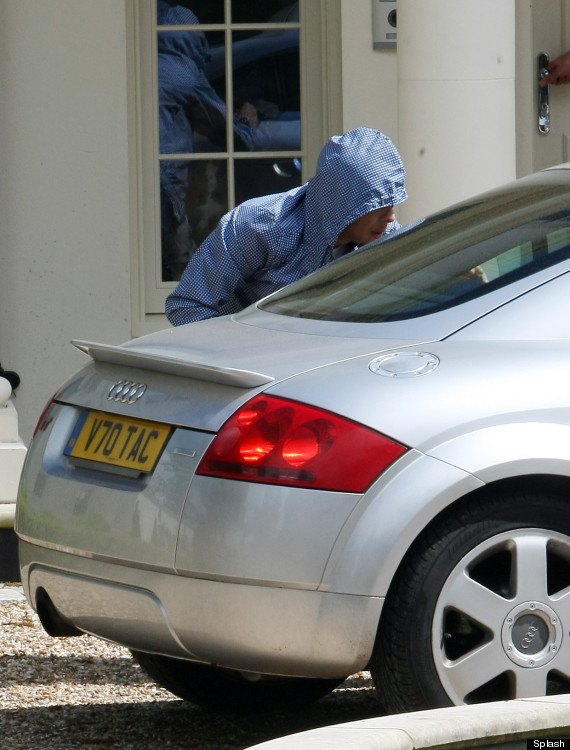 Dappy keeps a low-profile as he visits Tulisa
Her cousin and N Dubz bandmate Dappy was snapped visiting her. Tulisa hasn't been pictured since her alleged involvement in a drug deal was reported by The Sun.
The star's estranged dad, Plato, has also reached out to her - through the same paper that set up the drugs sting.
Plato and Tulisa have not spoken since falling out three years ago. But he revealed that her arrest has made him desperate for a reconciliation so he can give his daughter a "hug and a kiss".
He told The Sun: "I want to get back into her life. I'd just hug her and kiss her. That's why I'm doing this through the paper — to remind her that her dad is there, to reach out.
"But all my family are helping her out because she's down. She is very strong, but obviously she is very, very upset."
Take a look at celebville's biggest drug scandals, confessions and denials in our gallery below...
LIKE US ON FACEBOOK | FOLLOW US ON TWITTER