Sebastian Vettel says it is too early to start thinking about winning his fourth successive Formula One world championship after yesterday's Canadian Grand Prix win.
His first success in Canada, Vettel took the chequered flag for the 29th occasion in his F1 career and third time this season.
It was a race that was later overshadowed by the death of a marshal who succumbed to his injuries following a freak accident in which he was run over by a recovery vehicle.
In terms of the title, Vettel ominously has a 36-point lead over Ferrari's Fernando Alonso who managed to limit the damage by finishing runner-up ahead of Mercedes' Lewis Hamilton.
Vettel, however, is wary of how quickly a situation can turn, citing his own charge in the standings last season when he trailed Alonso by some margin before going on to claim his third crown.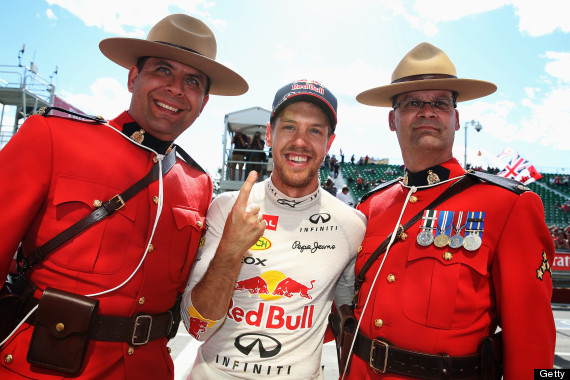 Vettel celebrates with two Canadian Mounties
"I was in a different position last year at this time, and I was able to catch up quite a lot towards the end. I had very strong races," said Red Bull star Vettel.
"Fernando was a little bit unlucky here and there and we were able to come back and beat him.
"But this was 10 races from where we are now. There are so many things that can happen at any stage of the championship.
"Right now I'm happy to stand on the grid, focus on the race, trying to win. We will see later on if we are still in a strong position."
It proved to be third time lucky for Vettel after starting from pole in 2011 and again last season, only to finish second and fourth respectively.
On pole again, this time the victory was hardly ever in doubt from the moment he opened up a two-second gap at the end of the first lap.