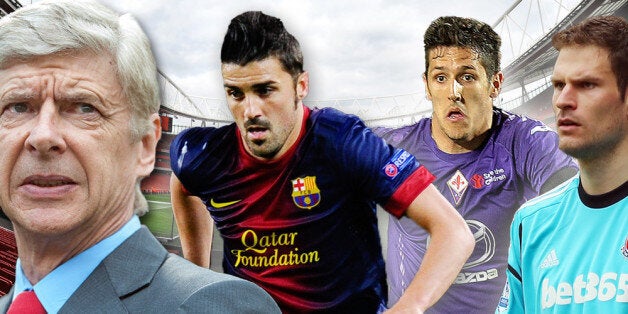 Arsenal chief executive Ivan Gazidis accepts it will be a "big summer" for the club in the transfer market and re-iterated significant funds were available should manager Arsène Wenger wish to spend them.
The Gunners are determined to improve the strength of the squad ahead of next season to mount a long-overdue sustained assault for a Barclays Premier League title.
Last week Gazidis maintained improved commercial deals would see an "escalation in our financial firepower", with an additional £70million understood to have been set aside should Wenger wish to land a marquee signing. Arsenal have been linked with both England forward Wayne Rooney and Real Madrid frontman Gonzalo Higuaín.
Speaking to a question and answer session with Arsenal supporters at the Emirates Stadium, Gazidis stressed everything was being done behind the scenes to secure whatever additional talent Wenger requires.
"It is a big summer. We have been working very, very hard to gain the kind of financial capability we need as a football club to be at the very top end of the game," he said.
"The ambition that (majority shareholder) Stan Kroenke, Arsène Wenger, the players, our staff and I know all of the fans have is to be competing to win the Premier League and Champions League. If we are at that level, the trophies will come.
"Those long term commercial deals have come up for renewal. You know about the Emirates (stadium and sponsorship) deal, I can't talk about the (new) kit deal yet, but we're confident of a good result there too. Higuaín is believed to be an Arsenal target
"It is all about giving us the capability to go to the manager and to say 'here is the money for you to compete'. That is why we are in this stadium and that is what we want to do."
Wenger, 63, is heading towards the final season of his current contract and has been linked with taking charge at big-spending Ligue 1 side Paris St Germain, although Gazidis remains hopeful an extension can be reached with the French coach who helped guide Arsenal back into a top-four finish in the Premier League and with it another shot at the Champions League.
Gazidis added: "It is no secret that we think he (Wenger) has done a fantastic job and we think we can give him the tools he needs.
"When we are thinking about trusting someone with the type of money we will have, we can think of nobody better than Arsène.
"He is not scared to spend money, but he has to believe he is getting a top-class player.
"The parameters in which he has to operate is to spend what the club can afford and my job is to make that as big as possible and Arsène's job is to think about which talent he wants to spend that on in the best way possible.
"If we only find one player that we like, we won't spend twice as much on him just so we can say we spent all of the money. That doesn't make any sense to me - the key will be to buy the players Arsène Wenger believes in."