Real Madrid president Florentino Pérez has joined José Mourinho in accusing Barcelona players Xavi and Andrés Iniesta of sour grapes after the pair hit out at the former Bernabéu coach.
Last week Xavi criticised the Chelsea coach's style of football and declared he "has left no legacy for the future", while Iniesta said the new Chelsea boss had "damaged Spanish football" due to his confrontational style.
Their teammate Gerard Piqué also said Mourinho had "harmed" morale in the Selección, despite Spain winning last year's European Championship with relative ease.
The former Inter boss hit out at Iniesta during his unveiling at Stamford Bridge yesterday, saying: "I damaged Spanish football by being the coach who broke Barcelona's dominance."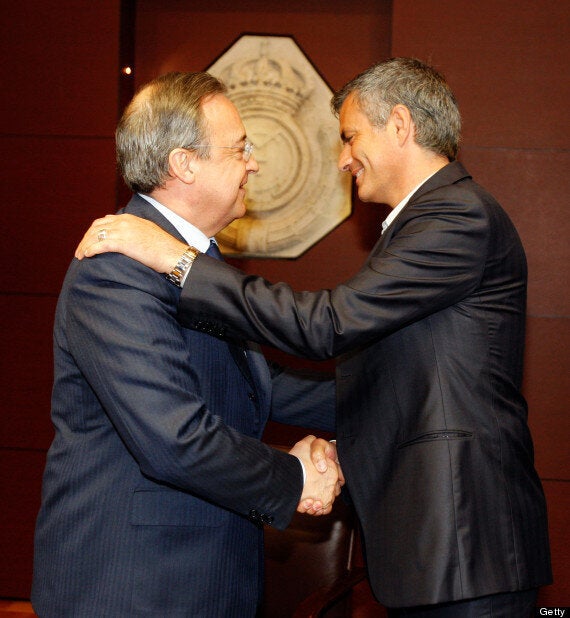 Pérez agreed with Mourinho about Iniesta and Xavi's complaints
And Pérez, speaking during an interview with Marca TV, concurred with the 50-year-old's assertion.
"I understand why Xavi and Iniesta are angry with Mourinho, they haven't beaten us in any of the last five games," he said.
"It's not a good strategy to criticise your opponent when you don't win."
Referring to Mourinho's comments, Pérez then added: "Mourinho ended Barca's period of always beating Madrid, he was right when he said that."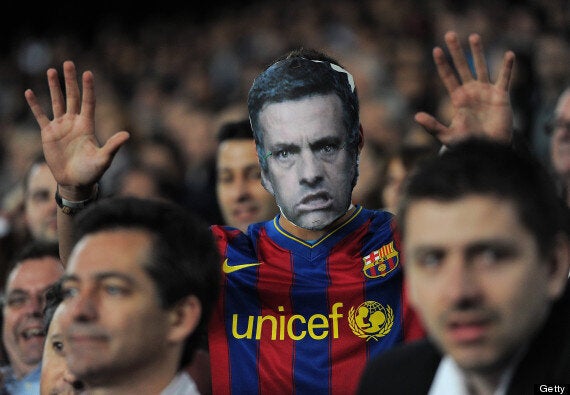 A Barça fan mocks Mourinho in 2011
Mourinho emerged as a pantomime figure in the rivalry between the two biggest clubs in Spain, most famously poking then Barcelona assistant coach Tito Vilanova in the eye after a match in August 2011.
The Portuguese won Madrid's first league title for four years in 2012 and although Los Blancos lost out on the trophy to the Catalans last season, they overcame Vilanova's side in the Copa del Rey, the Spanish Supercopa and in their last league fixture.
Mourinho won two major trophies during his tenure at the Bernabeu while Barça won seven in the same period.
Blaugrana midfielder Cesc Fabregas was quick to laugh off the former Madrid manager's comments.
"Madrid ended our hegemony?" he told radio station Onda Cero. "We have just won the league by 15 points."