While using a phone in bed might prevent some of us from unwinding properly at the end of the day, we're pretty sure after using this app, most ladies wouldn't have a problem switching off.
A female masturbation app HappyPlayTime is in development reports Gamification, which will teach female anatomy and provide lessons on self-stimulation techniques through a number of games.
Launched at the start of March this year, the designer Tina Gong has already been overwhelmed by levels of support for the experimental project.
On her blog, she writes: "I am stunned to see all the support we've gotten... Though this initially started out as a tenuous experiment, I think it's safe to say that I'm now working hard to make HappyPlayTime a reality."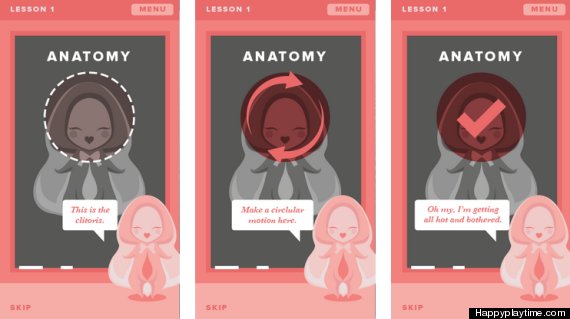 Screen grab from Happy Play Time blog that demonstrates how the game could work
At the time of writing, HuffPost UK Lifestyle can find no female masturbation apps on iTunes and just a rather unhappy looking android app available on Google Play. So we suspect Tina's really put her finger on a pressing problem.
On the Happy Play Time blog, she writes: "Sexuality is one of the most basic instincts of human beings".
"Unfortunately for many women, there has been a cultural stigma that blocks access to self-stimulation. HAPPYPLAYTIME is here to eliminate this barrier as much as possible. By talking openly and lightheartedly about female masturbation, we are taking the first step to becoming truly sexually liberated.

Tina's blog is also filled with great information about female masturbation (see above).
For example, did you know that that age range where women masturbate the most is 25-29? Or that 44% of women first masturbated between the ages of 10 and 14 years old?
Would you use this mobile app?! Let us know in the comments below...