LeBron James vowed to keep ignoring his critics after a second consecutive MVP performance helped the Miami Heat retain their NBA crown against San Antonio Spurs.
The 28-year-old had 37 points and 12 rebounds to lift the Heat to a 95-88 win over the Spurs in game seven of the finals series.
James is one of the biggest stars the NBA has ever produced, but is sometimes criticised for lacking aggression or failing to produce in clutch situations.
In his post-match interview broadcast on Sky Sports 1, he said: "I can't worry about what everybody says about me.
"I'm LeBron James form Akron, Ohio; from the inner city. I'm not even supposed to be here. That's enough.
"Every time I walk into the locker room and I see a number six with James on the back, I'm blessed. So what everybody says about me off the court don't matter. I got no worries."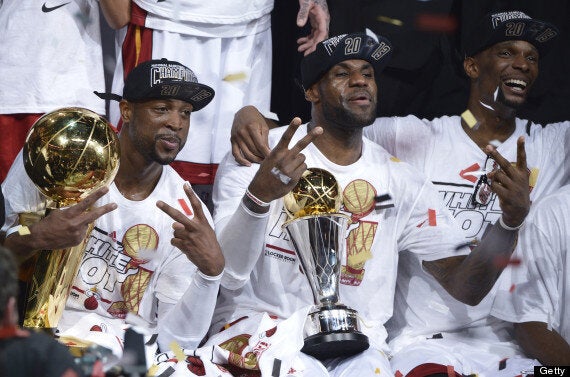 Dwyane Wade, James and Chris Bosh celebrate after winning game 7
Dwyane Wade, who had 23 points and 10 boards, paid tribute to the Spurs, who pushed the Heat all the way and came within a whisker of winning the title themselves in a tense game six.
"It wook everything we had as a team," said Wade. "Credit to the San Antonio Spurs. They're an unbelievable team. This is the hardest series we ever had to play but we did what it took.
"This is what it's all about. This is the reason we came together. We're a brotherhood. Two championships in three years together, it's an unbelievable feat."
At the end of the game, Wade immediately went to talk to San Antonio star Tim Duncan.
"Tim Duncan is one of the greatest players of all time," Wade said. "If I'm able to do what Tim Duncan did at 37 years of age, I'm happy. The guy is a warrior. I just wanted to pay my respects."