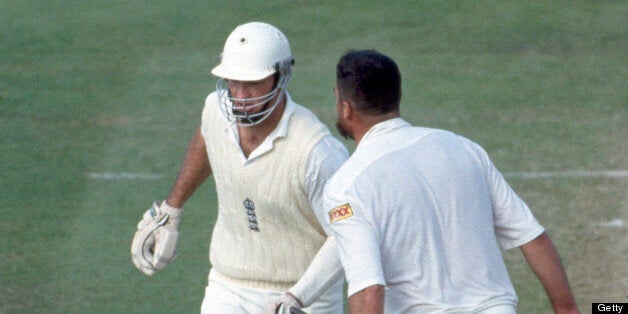 Following on from the frankly fantastic Glenn McGrath-Ramnaresh Sarwan spat we recently recalled, it's time to select cricket's other great sledging incidents recorded across the globe.
Some you will have heard, some you will not have. Aussies are, naturally, ubiquitous, but the left-field sledgers, be they mild-mannered Indians or tubby English cricketers (no, it's not Mike Gatting), have also offered some exceptional counters...
ANDRE NEL AND SHANTHAKUMAREN SREESANTH
Andre Nel wanted to be like Glenn McGrath but was a risibly lite version of the Australian great. Nel was angrier and mouthier but wasn't as good with a cricket ball and often embarrassed South African commentators who had to apologise on his behalf.
Nel's inconsistency inevitably led to the odd comeuppance, such as when he accused Shanthakumaran Sreesanth of having no heart. Sledging in cricket does not mean you have to talk, and from the very next delivery Sreesanth smashed the ball over Nel's head for six and celebrated the maximum by wildly wheeling all the way up to Nel's crease.
JAMES ANDERSON AND MITCHELL JOHNSON
If you didn't see England's Champions Trophy victory against Australia in June then you missed the Barmy Army's wonderful Daryl Strawberry-like heckling of Mitchell Johnson. "Miiiitchellllllll... Miiiitchellllllll... Miiiitchellllllll..." they chanted in unison at the pantomime villain.
Johnson will not be playing in the Ashes, and his Test match legacy against England boils down to one rash comment to James Anderson in England's 2010-11 series win.
"Why are you chirping now mate, not getting any wickets?" Johnson - at the non-striker's end, asked Anderson, who immediately bowled Johnson's partner out.
ANDREW FLINTOFF AND TINO BEST
When he was likeable and not an unconscionably arrogant egotist, Flintoff was caught on mic giving Tino Best some helpful advice...
GLENN MCGRTH AND EDDO BRANDES
The following is the only time a Zimbabwean has gotten the better of an Australian...
McGrath: "Why are you so fat?"
Brandes: "Because every time I f**k your wife, she gives me a biscuit."
RAVI SHASTRI AND MIKE WHITNEY
Indians are renowned for not bothering with swearing. Sachin Tendulkar was the (little) master at replying with his bat rather than his mouth and eventually opponents decided against bothering him.
The exception came via a magnificent retort from Ravi Shastri, one of the most benign voices in the game.
Whitney (12th man): "If you leave the crease i'll break your f*****g head".
Shastri: "If you could bat as well as you can talk you wouldn't be the f*****g 12th man."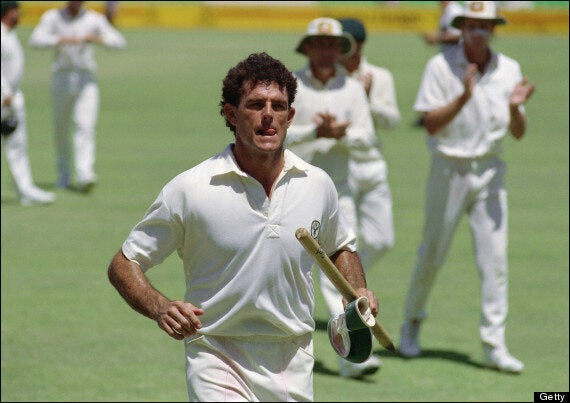 MERV HUGHES AND ROBIN SMITH
Two - yes, two - pearlers from this backbiting duo. Hughes started it (naturally) when he offered Smith some valuable advice at Lord's in 1989...
"If you turn your bat over you'll see the instructions on the back."
Later on in the Test match Smith played and missed a shot.
"You can't bat," chirped Hughes. Of course, the next ball hit the boundary.
"Hey Merv, we make a fine pair," said Smith. "I can't bat and you can't f*****g bowl."
MERV HUGHES AND JAVED MIANDAD
So often did Hughes enjoy "verbal intimidation" he could boast a biblical handbook of his exchanges with Englishmen, West Indian, Pakistanis and the like. Hughes looked like someone with Tourette's syndrome but his best oral triumphs were clean.
Pakistani batsman Javed Miandad, tired of the fast bowler's eyeballing once, made the mistake of calling him a "fat bus conductor".
For once, Hughes had no reply, and Miandad began teasing him, pretending to drive a bus and bibbing a horn, which must have looked comical considering Asian cricketers usually abstain from sledging.
Five overs later, Hughes, rattled, decided he wanted to bowl round the wicket, deliver Miandad a bouncer and "kill him". The ball ballooned to gully where Peter Taylor caught Miandad and the Aussie fielders skipped in quickly to hear what Merv's kiss-off line would be.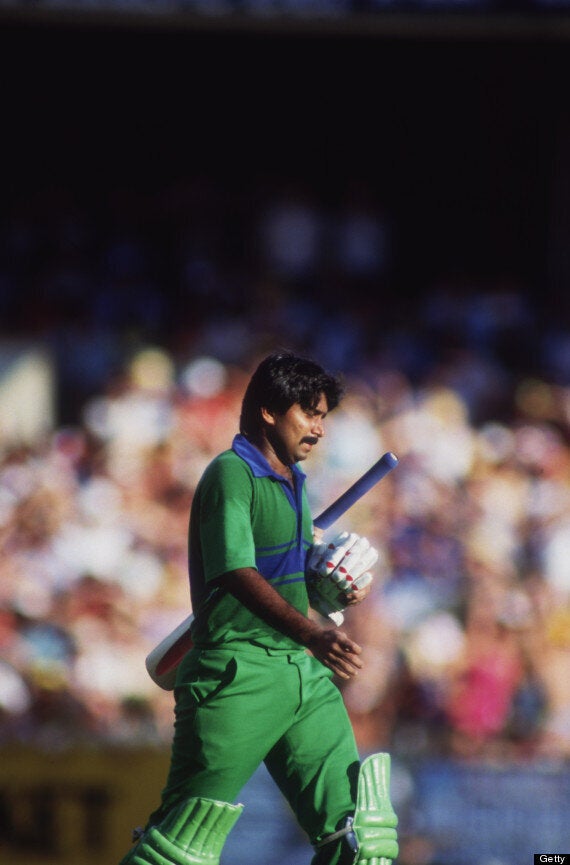 ADAM GILCHRIST AND MOHAMMAD KAIF
Gilchrist, unlike his predecessor Ian Healy, was never as chirpy with sledging. He was also a good sport and would walk if there was the slightest edge off his glove, irrespective of the volume of contact or appeal.
So when Mohammad Kaif edged one to him off Nathan Hauritz in Mumbai nine years ago and refused to walk - and wasn't given out by Rudi Koertzen - Gilchrist was unimpressed.
"That's off your glove, mate," he said matter-of-factly. "Whole world's watching, champ."
IAN HEALY AND ARJUNA RANATUNGA
Like Hughes and Smith, there are two reported incidents between these two, both revolving around Sri Lankan Ranatunga's weight.
During a One-dayer against Australia Ranatunga decided he needed a runner. Australian broadcaster Channel 9's stump microphone then picked up the following observation from Healy: "You don't get a runner for being an overweight, fat c**t."
Another time, the Australians exposed a chink in their armour as they became frustrated while trying to get the wicket of the portly Ranatunga. Shane Warne asked him what would tempt Ranatunga to come out of his crease.
"Put a Mars Bar on a good length and that should do it!"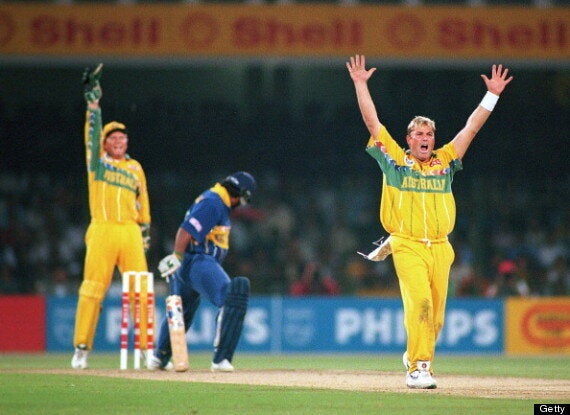 The Mars bar tactic didn't work for Warnie
MARK WAUGH AND JAMES ORMOND
Unlike his brother, Mark Waugh occasionally came unstuck when he attempted to psychologically maim an opponent. Even if it was two-Test batsman James "fond of a fag and a few beers" Ormond.
"Look who it is. Mate, what are you doing out here? There's no way you're good enough to play for England."
Without missing a beat, Ormond casually turned around and said: "Maybe not, but at least I'm the best player in my family."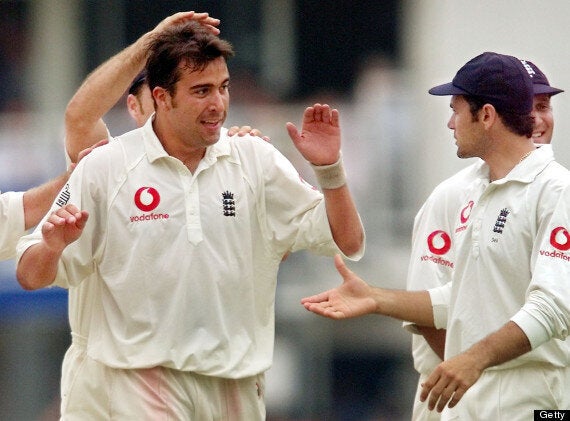 James Ormond: "Fond of a fag and a few beers"
STEVE WAUGH AND JAMIE SIDDONS
Waugh actually loved getting sledged. He admitted in his autobiography he rarely said anything imaginative but he wittily capitalised during a Sheffield Steel match.
Going through his usual routine of using the bail to mark centre, Jamie Siddons became impatient.
"For f***'s sake, mate, it's not a f*****g Test match!"
"Of course it's not. You're here."
Possibly the daddy of all sledging exchanges...
Marsh: "So how's your wife and my kids?"
Botham: "The wife's fine, the kid's retarded."
MICHAEL ATHERTON AND IAN HEALY
How did Atherton end up on this list? Known for not saying anything despite how much stick he received, Atherton wittily humiliated the lippy Healy on his first tour of Australia.
Atherton stood his ground during an appeal for a catch behind and at the end of the over Healy labelled him a "f*****g cheat". Very gentlemanly, Atherton shot back: "When in Rome, dear boy."
Warnie was as good at sledging as he was at spin-bowling. Warne's genius behind the stick he gave is that his most memorable quips are clean yet cutting.
Daryl Cullinan was his bunny. The South African averaged 12.75 against Australia - compared to his 44.21 overall - and even sought psychological help in dealing with Warne, who loved that.
"Daryll, I've waited so long for this moment. I'm going to send you straight back to that leather couch." Cullinan was out for nought and missed the rest of the series.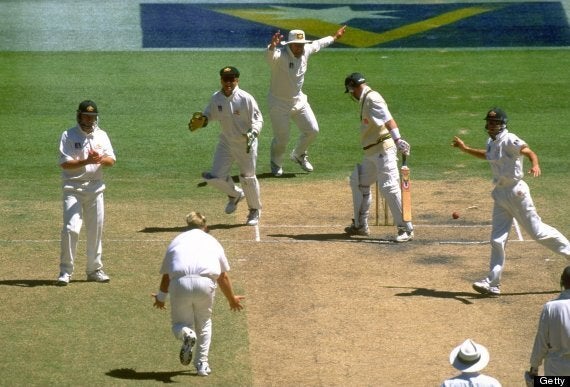 The only time the batsman did get the better of Warne was during some sledging. As Cullinan was on his way to the wicket, Warne told him he had been waiting two years for another chance to humiliate him.
"Looks like you spent it eating," Cullinan retorted.
Warne also informed Paul Collingwood, infamously awarded an MBE for playing one innings of the 2005 Ashes series, just what he thought of that accolade in the 2006-07 series.
"You got an MBE, right? For scoring seven at the Oval? That's embarrassing."