If you fancy a taste of the unique persona that is Tracy Morgan, a character not quite but almost identical to his role of Tracey Jordan on '30 Rock', he's on his way to you.
Morgan has decided to bring his distinct form of stand-up to the UK, a place he's never been, but somewhere he tells HuffPostUK he can't wait to visit...
"I want to have a unique experience," he booms down the phone to me. "I'm bringing my family and we're going to have a blast."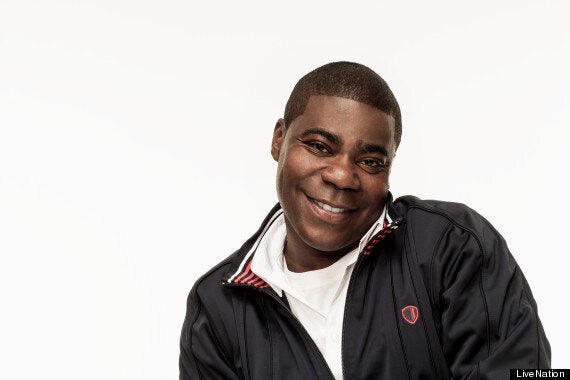 Tracy Morgan will be bringing his distinct voice to the UK in October
Morgan's ideas of a blast don't always correspond with those of his audience - his trip to Melbourne Comedy Festival a couple of months ago ended up polarising audiences. But Morgan's not about to change for no man...
"Comedians are always going to be controversial, and say things," he says, intent on batting away such dissent. "I prefer to focus on the positive.
"I don't panda, I don't change. I bring my voice, my city. There are people where I was born, they're never going to see the UK. I bring their voice, and I am their eyes."
He's not wrong. Morgan's upbringing in the Bronx was the stuff of tough-boy myth, and now here he is, stand-up success, Emmy Award-winning regular of 30 Rock, before that Saturday Night Live, coming up his own show on which he's exec producing as well as starring... so how has he pulled himself up to such heights?
"I credit one man, my father," he reveals. "He was a very optimistic person, he was brave, he survived Vietnam. If I had a tiny part of his strength, I'd be flying. He's my hero." Tracy Jordan (played by Morgan) with his '30 Rock' co-stars Liz Lemon (Tina Fey) and Jenna Maroney (Jane Krakowski)
Morgan's had his setbacks, including a liver transplant and diabetes, but today, it sounds as though he is, actually, flying. "I feel very well," he concurs. "I stay on top of it. Diabetes is not the end of the world."
As well as the shows and the stand-up, there's the book, a collection of memoirs, anecdotes and thoughts, called 'I Am The New Black' - would he care to expand?
"Sure," he beams. "We have to try. Now Obama's made it to the White House, we've got concrete proof. The rules have changed. There are no limits. You can be anything you want to be."
Tracy Morgan's UK tour starts on Tuesday 15 October and will be stopping in various cities across the country. Information and tickets here... Meanwhile, here is 30 Rock's Jack giving Tracy Jordan (aka Morgan) some therapy...
Popular in the Community