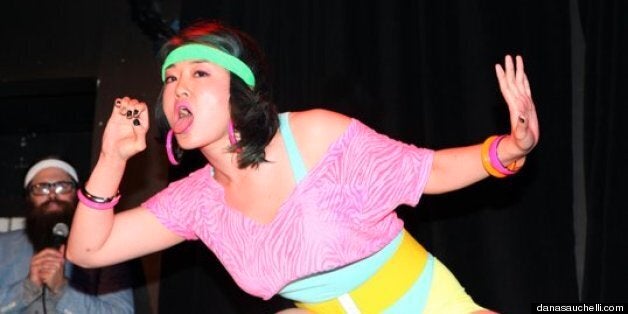 It started off in Austin, Texas, as a parody to the Air Guitar Championships, but four years on, the Air Sex Championships have turned into 14-city tour that culminates in an annual competition with a final sex-off in December. At the 4th annual Air Sex Championships, held at Manhattan's Cutting Room, America's dry humpers and grinders took to the stage to compete - the winner was Jam Out With My Clam Out.
We're not saying there aren't a few punters pulling a Pee-Wee-Herman-In-The-Cinema manouevre, but by and large the goal is comedy and inventiveness. All the movements and simulations are exaggerated, and to prevent it from becoming essentially porn on a stage, one of the rules is that you can't actually orgasm in front of the crowd.
So what does it take to put together a winning routine? Returning champion Jam Out With My Clam Out donned a geisha-inspired floor length robe, granny glasses, a head full of hair curlers and strap on rubber breasts. She then acted out a scene in touched upon the romantic themes of zombies and fellatio, using a scenario in which her (imaginary) husband died and she then tried to revive him. (Use your imagination).
AIR SEX RULES

1. You have to include at least one imaginary person

2. All sexual acts must be simulated, not real

3. All performers must use music in their routine

4. Contestants have two minutes to perform

5. Props and groups are allowed
Host Chris Trew told HuffPost US: "I was not surprised Jam Out With My Clam Out won again, she knows how to win and she really wants to win. She's easily one of the ten best [air sexers] in the country. She made a very big step tonight, she showed range."
Unlike the Air Guitar Championships which have since come to Britain, it may take time for air sex to catch on in Britain considering our prevalent attitudes to sex waver between prudishness and letting it all hang out after a few cans of Special Brew in the local high street. But when it comes, we'll be ready...