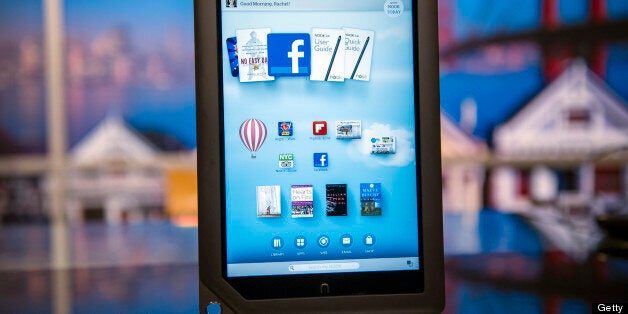 American bookseller Barnes & Noble has decided to spin off its tablet businesses in order to arrest worsening revenue declines.
While the company's Nook HD and HD+ tablets have won relatively strong praise from reviewers - including from the UK where its devices launched for the first time last year - it had not sold enough to really compete with Apple and Samsung in the pure gadget space, or Amazon in the media consumption 'E-reader-plus' market.
While Barnes and Noble did say that digital content sales had risen, it also admitted they were fragile enough to decline in the fourth quarter due to the lack of a Hunger Games or 50 Shades of Grey-style blockbuster.
Recently it opened up both its Nook HD devices by building Google's Play app store into a recent update.
But it wasn't enough, and now Barnes & Noble says that it will attempt to create a "partnership model for manufacturing" and allow third parties to make Nook tablets instead.
The company will continue to support existing devices, however, and will still make E-ink readers in-house.
It also promised "ongoing software upgrades and improvements to the digital bookstore service" and "world-class pre- and post-sales support".
"Going forward, the company intends to continue to design eReading devices and reading platforms, while creating a partnership model for manufacturing in the competitive color tablet market. Thus, the widely popular lines of Simple Touch and Glowlight products will continue to be developed in house, and the company's tablet line will be co-branded with yet to be announced third party manufacturers of consumer electronics products."
Popular in the Community