The Spanish Football Federation has denied a report published by the Brazilian newspaper Globoesporte regarding events which supposedly occurred after Spain's opening Confederations Cup match with Uruguay in Recife.
The newspaper had reported the Spain team held a party with alcohol in the Golden Tulip Hotel in Recife to celebrate the victory, hiring a local band.
The report claims five girls, brought to the hotel by the band, went to the players' rooms at the end of the night accompanied by five players and a member of the coaching staff. The following day, the players reported money had been stolen from their rooms.
The statement, released on the Spain team's official website, www.sefutbol.com, acknowledges players did have money stolen from their rooms but refutes the claims of the newspaper, which it claims "damage the honour of our players".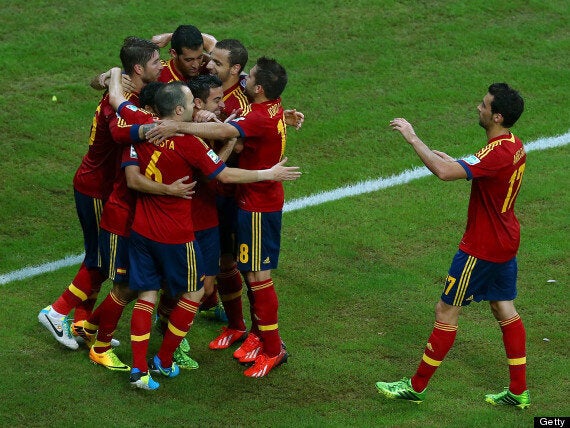 Spain defeated Uruguay 2-1 nine days ago
The statement reads: "The Spanish Football Federation (RFEF) categorically denies the events reported by a Brazilan media outlet which attacks the good name of the Spanish national team and the honour and professionalism of our players.
"Six players of the national team were the subject of a robbery in the team's hotel in Recife during the stay for the match between Spain and Uruguay in the Confederations Cup. This was appropriately reported to the Brazilian police.
"This denouncement was not an attack against the organising committee, nor against FIFA, nor the country of Brazil, which has welcomed the Spanish team with open arms. Such an event could have occurred in any place in the world, including Spain.
"Since then, a series of slurs about our players have been published, which the RFEF totally rejects and profoundly condemns, because they damage the honour of our players and their friends and family.
"This event, which will not destabilise the performance of the Spanish team in any way, has provoked the indignation of the Football Federation because its only aim is to cause gratuitous harm to the good name of the players in the team, who have demonstrated good conduct, professionalism and exemplary behaviour for many years."