Maria Sharapova has crashed out of Wimbledon in the second shock defeat of the Championships following Rafael Nada's unexpected first round exit.
The player, who made headlines for her high-profile spat with reigning champion Serena Williams earlier this week, bowed her head as she was beaten by world no 131 Michelle Larcher De Brito.
The four-time grand slam champion appeared deflated as she shook hands with Larcher de Brito following one of the noisiest matches to have been played at the All England Club.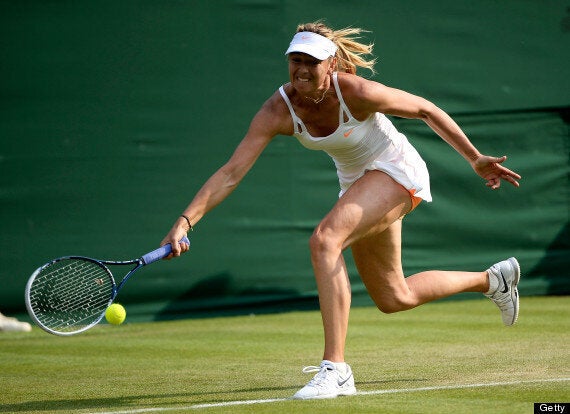 Maria Sharapova has crashed out of Wimbledon
Sharapova, who won the Wimbledon title nine years ago, dropped out of this year's contest following a 6-3 6-4 loss to her Portuguese opponent.
Until now Larcher de Brito has previously been best known for her high-pitch screech.
Her win came after Sharapova slipped at least once on the turf.
The Russian is one of a growing number of players to have lost their footing on the Wimbledon lawns since play began on Monday.
Sharapova was seen mouthing what appeared to be the words: "This court is dangerous" during the match in which she tumbled to the ground three times. But she was reluctant to blame conditions on the court for her defeat.
"I don't think I've ever fallen three times in a match before in my career so that was a little strange," she said.
"But that's certainly not an excuse and today I've seen a lot of players fall and take a few hits and a few injuries."
She described the courts as "a bit slippery on the outside" and added: "I just noticed a few more players falling than usual".
Of her loss, she said: "It's frustrating. You certainly don't want to lose matches, I mean, whether it's early or late.
"As I've said, this tournament is extremely special, and it's definitely tough to lose.
"But I'm going to keep my head high about it because there's no other way, and try to find the positives out of what I have today and my career, set new goals, and just keep moving forward."
Popular in the Community