Even if you haven't yet visited Polpo, that gorgeous 'bacaro' style restaurant in London's Soho, you can still recreate its Venetian-style tapas dishes at home. Chef Russell Norman's style is not fiddly and the recipes, taken from his cookbook Polpo: A Venetian Cookbook (Of Sorts), call for a lot of great summery ingredients such as crab, pasta, fish, lemon and peppermint and berries. Perfect for a posh dinner at home (at non-restaurant prices).
Tweet us pictures of your dinner triumphs @HuffPoLifestyle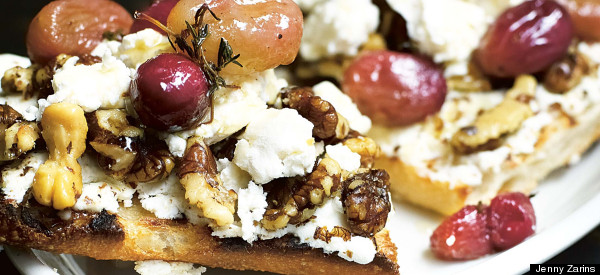 GOATS CHEESE, ROASTED GRAPE AND WALNUT BRUSCHETTE
This bruschetta is a delicious marriage of deep flavours and contrasting textures. It is very easy to make and incredibly impressive when presented and eaten. You should use a mild, soft goat's cheese, such as Italian caprino, and any type of seedless grapes that you like.
For two bruschette:
10 grapes – any seedless variety
1 small handful of picked thyme leaves
Extra virgin olive oil
Flaky sea salt and black pepper
10 walnut halves
2 thick slices of good sourdough or soda bread
Half a garlic clove
1 large handful of soft, crumbly goat's cheese
Runny honey
Preheat the oven to 190C/Gas 5.
You need two separate baking trays;one for the grapes and one for the walnuts. Scatter the grapes on one with almost all of the thyme, a little olive oil, salt and pepper. Shake the tray a few times to coat the grapes and place in the oven for 10–15 minutes until they are starting to colour.
Shake the walnuts with a little olive oil only and pop those in for just 5–6 minutes. Remove both from the oven andset aside.
Toast or grill the slices of bread so that they are crunchy on the outside but still have a good degree of give when squeezed. Rub one side of each slice a few times with the cut side of the garlic clove. The clove will melt into the bread's hot surface. Drizzle with some olive oil.
Crumble the goat's cheese onto the grilled bread. Add the roasted grapes and walnuts. These should still be nicely warm. Drizzle with a little good quality runny honey. Cut each slice of bruschetta lengthways, scatter over the remaining thyme leaves and serve.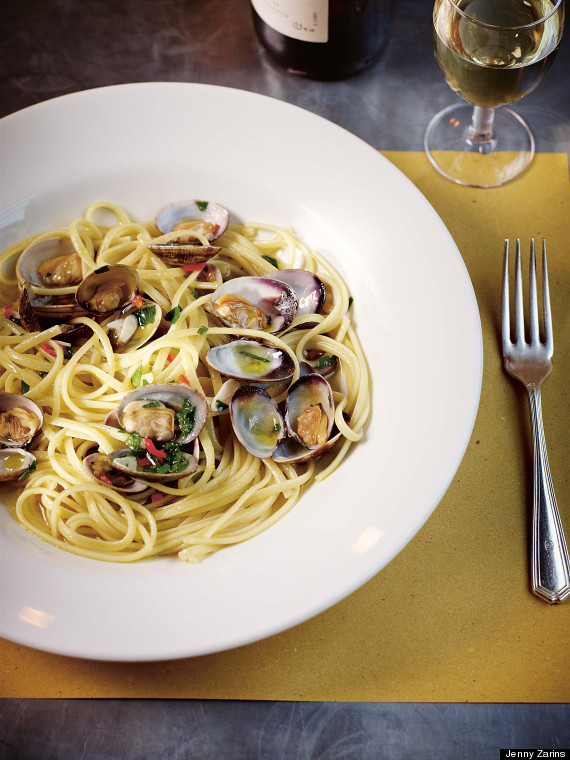 LINGUINE VONGOLE
This dish has taken on something of a legendary status for me. It was Venice, of course, and it was an over-lit, busy and brash canteen of a place called Ai Quattro Feri, just off Campo San Barnaba. The dish that arrived was huge; a mound of steaming, glistening pasta punctuated with chopped parsley and at least 30 delightful little clams, the whole thing smelling wonderfully of garlic and powerfully of the sea.
For four:
1kg good clams
300g linguine
Extra virgin olive oil
2 teaspoons dried chilli flakes
Flaky sea salt
1 large garlic clove, very finely chopped
250ml white wine
1 large handful of flat parsley leaves, chopped
Crusty bread, to serve
It's all about timing. Get a deep pan of salted water on the boil while you clean the clams by washing them vigorously under cold running water. Scrub if necessary and discard any clams that are cracked or remain open when tapped.
When your water has started to fully boil, place the linguine in carefully and stir slowly once or twice. Add a slug of olive oil to the water and bring down to a gentle boil. Meanwhile, put a very wide frying pan on a medium flame and heat 2 more tablespoons of olive oil.
When the pasta has been boiling for about 3½ minutes, it means it has about 3½ more minutes to go before being perfectly al dente. It is essential that neither the clams nor the pasta overcook. Be very strict with timings. So now throw the clams into the hot oil pan, add the dried chilli, a pinch of salt and the garlic and stir until the clams start to open. This will take no more than 2 minutes. Discard any clams that are still closed. Add the white wine and cover the pan with a lid.
Drain the pasta just retaining a small amount of the cooking water. Quick. Toss the pasta into the clams with the retained cooking water and add the chopped parsley, a few more glugs of olive oil and stir all the ingredients through. Take off the heat and check the seasoning.
Your pan will be a steaming mini masterpiece. Put it onto the table with 4 large shallow bowls, 4 forks, a big bowl to throw the empty shells into, a bottle of chilled Sauvignon Blanc and some crusty bread (ignore what the purists say about never serving bread with pasta – how else are you going to slurp up those lovely juices at the end?). Forget all conversation for the next 10 minutes.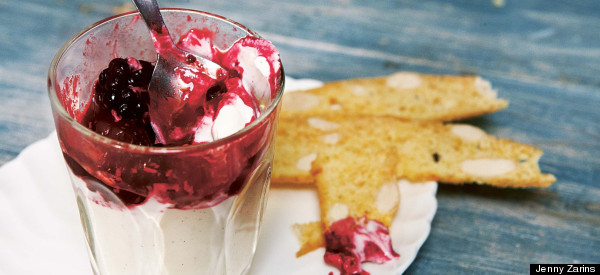 PANNACOTTA WITH BLACKBERRIES
These little confections are made individually and are best in 150ml Duralex tumblers. Blackberries always taste better when you have picked them yourself, by the way.
For twelve or more:
750ml milk
800ml double cream
150g caster sugar
4 vanilla pods, split lengthways
20g leaf gelatine
25ml grappa
About 100 (500g) blackberries
In a heavy-based pan put the milk, double cream, 100g of the caster sugar and the seeds scraped out from the vanilla pods. Just before the liquid reaches boiling point, remove from the heat.
Soften the gelatine leaves in iced water for about 5 minutes. Squeeze out the water and stir into the creamy mixture along with the grappa.
Cool the liquid in a mixing bowl over ice, stirring occasionally to disperse the vanilla seeds. When it begins to set and the vanilla seeds are suspended in the mixture (this will take about an hour) transfer the setting liquid into a large jug. Pour into the twelve glasses, leave a 2cm gap at the top, and chill in the fridge until they are fully set. It is best to do this overnight.
Put the blackberries into a very large saucepan with 100ml water and the remaining 50g of caster sugar. On a very low heat, slowly poach the blackberries until they soften and start to lose their shape. Take off the heat and allow to cool slightly so that you can taste them. Add more sugar if you like.
When the blackberry compote has fully cooled, remove the 12 set pannacotta pots from the fridge and top each one with a generous spoonful or two. You can serve this with Cantuccini biscuits.
Polpo: A Venetian Cookbook Of Sorts, £25, Bloomsbury
The Huffington Post UK are proud media partners of Wilderness. Check back here for more exclusive blogs, competitions and stories soon. For tickets to the event click here.