Next week David Moyes officially begins his job as Manchester United manager. Professionally reticent since his announcement, the questions have piled up. From backroom staff changes to Wayne Rooney, there is a lot to talk about on Monday when he will chair his first press conference. He will also be present at the announcement of a "new global partner" the following week, as United come to belatedly embrace social media and communication in the wake of Sir Alex Ferguson's Pravda reign.
One question United fans would like to ask Moyes is whether he will sign a central midfielder. United have not signed such a player since Owen Hargreaves in 2007 and have spent £200 million on players in literally every other position since. It is an area which has proved to be their undoing in two merciful Champions League final thrashings against Barcelona and some of their most galling domestic defeats, such as the two losses versus Manchester City in the 2011-12 campaign.
Apart from the outstanding Michael Carrick, Moyes has Tom Cleverley, Anderson and Darren Fletcher to choose from.
Moyes should end the drought with the acquisition of Thiago Alcântara, Barcelona's brilliant midfielder and expert Xavi impressionist. Barça are doing their utmost to convince the Italy-born player to stay, but Andrés Iniesta, Sergio Busquets and Xavi remain immovable obstacles, even if Bayern Munich showed the trio have feet of clay.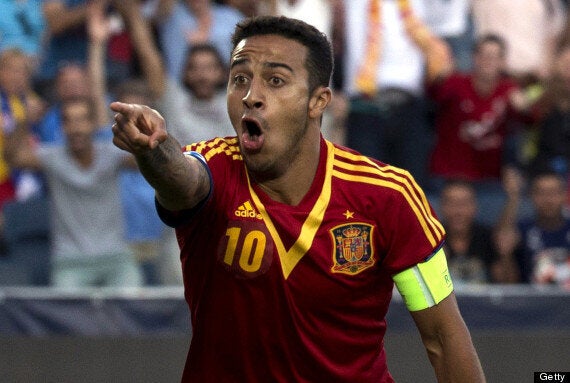 Thiago scored a hat-trick for Spain in the Under-21 Euros final
Thiago's lack of game-time has triggered a clause in his contract which means his buy-out clause has dropped to €17m from €90m. A snip at that amount, Bayern Munich and Chelsea are also interested in a player United have scouted for over two years.
Although he will improve United, targeting Thiago and teammate Cesc Fàbregas is in keeping with United's misguided obsession to replace Paul Scholes. Ferguson's inability to do so two summers ago led to him replacing Scholes with Scholes in January 2012. Thirty-seven at the time, Scholes enjoyed a fruitful four months prior to an unmemorable final season, and his return effectively signalled the end for the promising Paul Pogba.
Scholes' career consisted of two eras in which he excelled as a goalscoring midfielder and then as a deep-lying playmaker. When Ferguson stressed the importance of replacing him he seemed to hint at replacing the constructive Scholes of 2006-11, rather than the devastating match-winner who ghosted into penalty areas. Shinji Kagawa's arrival last summer went some way to filling the void, and Thiago could be the second half of the process.
But if one man needs to be replaced at Old Trafford it is Roy Keane.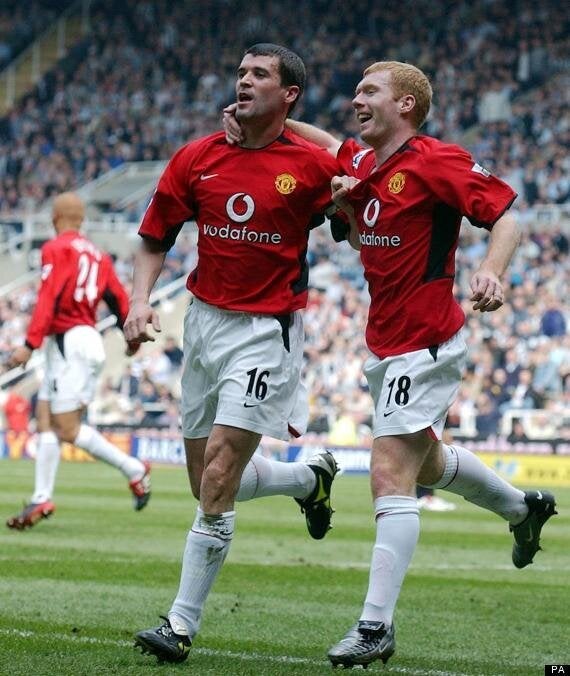 Keane and Scholes were one of United's most revered midfield partnerships
United's midfield issues did not begin with Owen Hargreaves' 2008 injury woes but when Keane was still playing. The Scholes-Keane axis was dynamic for United but had become pedestrian between 2004 and 2005, as Scholes' zip deserted him while Keane's lung-bursting days were behind him.
Keane's November 2005 departure, followed by Scholes' mysterious eye injury the following month, meant Ferguson's first-choice midfield for the second half of the 2005-06 campaign was Ryan Giggs and John O'Shea. AC Milan rejected an approach for Johann Vogel and United overachieved by finishing a distant second behind Chelsea.
Carrick, one of Ferguson's most important signings, joined that summer but a deadline day bid for Villarreal's dependable holding midfielder Marcos Senna, a contingency choice after Bayern refused to sell Hargreaves, never materialised. It is testament to Ferguson's genius United went on to win one of their greatest titles under him with an under-strength squad.
Rarely has a summer gone by since when United supporters have not craved a midfielder. Darren Fletcher was an excellent stop-gap between 2008-10 but he thrived when Carrick and Anderson regressed. "Value" was often an excuse Ferguson used for not bringing established players to United when the Glazer family tightened the purse strings after Cristiano Ronaldo left in 2009, but that is simply not true.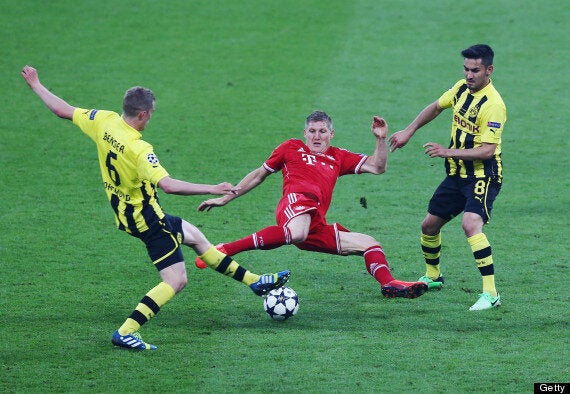 Sven Bender, Bastian Schweinsteiger and İlkay Gündoğan are superb defensive players
Ferguson claimed last year he had "never had a holding player", a role players like Bryan Robson, Paul Ince, Fletcher, Carrick and Keane have fulfilled at various points during their United career. The holding midfielder has been redefined, as Ferguson pointed out, but if United are to compete with the Bayerns, Borussias and Barças again they need a defensive presence. All three of the aforementioned teams boast outstanding holding midfielders and however much silk United might boast, they need steel even more to complement it.