Maybe it's because they are the only nation to lose to England in a shootout, but there is this misguided belief penalties might be Spain's Kryptonite. But the men of steel proved otherwise again as they defeated Italy 7-6 in the Confederations Cup semi-final.
Even Antonio Candreva's Panenka penalty to start proceedings could not fluster the Spaniards, who defeated Italy from 12 yards in the quarter-finals at Euro 2008.
It was the nervous-looking Leonardo Bonucci who eventually choked as the Azzurri's seventh penalty taker blasted high and wide. Jesús Navas, Manchester City's latest signing from Sevilla, hit the winner past the helpless Gianluigi Buffon.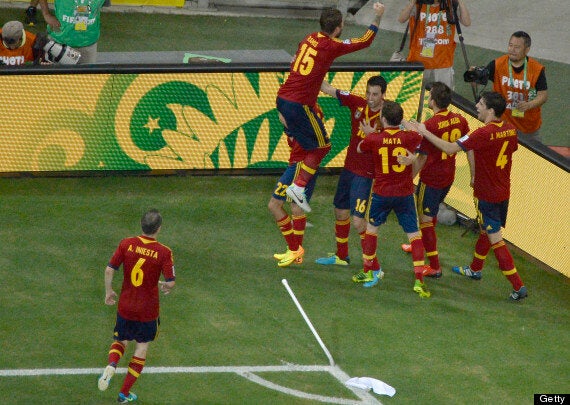 Spain celebrate Navas' winning penalty
Xavi, Andrés Iniesta, Gerard Piqué, Sergio Ramos, Juan Mata and Sergio Busquets all converted their set-pieces coolly after their Italian counterparts.
Almost all of Italy's successes were to Iker Casillas' right. Bonucci, fatally, aimed to the Spain captain's left.