Home favourite Lewis Hamilton demonstrated talent that matched his 2008 British Grand Prix victory in taking pole position for Sunday's race.
Cloudy but sunny spells and a very comfortable 18°C greeted the drivers as the qualifying hour started.
Ferrari is lacking pace here this weekend and both cars only managed 14th and 15th places in Q1 with Massa dangerously close to being eliminated. However it was the usual suspects that were knocked out with Van Der Garde, Chilton, Bianchi, Pic, Gutierrez & Bottas taking grid slots 22 through 17 - a disappointing result for Bottas who is celebrating WilliamsF1's 600th GP this weekend. Lewis Hamilton was in impressive form throughout qualifying
Hamilton was fastest in Q1 with a 1'30.995", ahead of team mate Rosberg and the Lotus F1's of Kimi Raikkonen and Romain Grosjean.
With a further six drivers to be eliminated from Q2 it was going to be interesting to see if the McLaren's could keep pace. Jenson Button reported ahead of Q2 that there was a surprising amount of extra grip compared to final practice this morning.
However that extra grip was not evident as McLaren drivers Button and Perez finished the session in 11th and 14th places respectively - Button complaining a lack of downforce as the session progressed. The remaining drivers who did not make the qualifying shootout were Maldonado, Hulkenberg, Vergne and Massa who will start 12th, behind Button.
Red Bull started to show pace though with an impressive 1'30.998" from Sebastian Vettel to set the fastest time in Q2, but the top 10 were separated by just six-tenths of a second.
But it was Hamilton who set the timing screens alight in the final qualifying session, setting a blistering lap time of 1'29.607", over four-tenths quicker than teammate Nico Rosberg. World Champion Sebastian Vettel finished in third place followed by Mark Webber.
British driver, Paul Di Resta finished in a brilliant 5th place, ahead of Ricciardo, Sutil, the Lotus F1's of Romain Grosjean and Kimi Raikkonen with Ferrari's Fernando Alonso rounding out the top 10.
In the post-qualifying press conference, Hamilton likened the pole position to the one he got in 2007. Hamilton has not felt comfortable in the car all weekend and admits Sunday will be a tough day but hopes for it to be a special one.
Vettel was happy with the result and felt the most was obtained out of the car. Commenting on Hamilton's lap time Vettel pondered on whether Lewis found a shortcut - visibly impressed with Hamilton's time.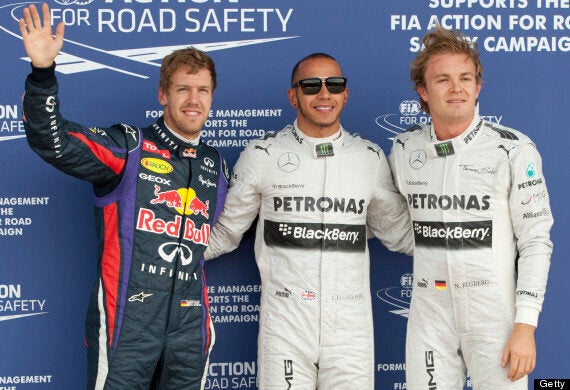 Top 3 in qualifying (right to left): Sebastian Vettel (3rd), Lewis Hamilton (1st) and Nico Rosberg (2nd)
Alonso has suggested that Pirelli's choice of tyre brought to Silverstone favours the Red Bull and Mercedes cars - the Hard and Medium compound tyres. The Soft and Super-Soft tyres are known to be more durable on the Ferrari and Lotus F1 cars. Pirelli have had a lot of focus put on them this year and tyre choices by Pirelli for the remaining races may be further scrutinised.
Qualifying has set up the race to be a memorable one. Can Hamilton make the fairytale story come true by winning tomorrow? @HuffPostUK will be there to find out.
The final grid for tomorrow's British Grand Prix is as follows:
Lewis Hamilton - Mercedes AMG
Nico Rosberg - Mercedes AMG
Sebastian Vettel - Red Bull Racing
Mark Webber - Red Bull Racing
Paul Di Resta - Force India
Daniel Ricciardo - Toro Rosso
Adrian Sutil - Force India
Romain Grosjean - Lotus F1
Kimi Raikkonen - Lotus F1
Fernando Alonso - Ferrari
Jenson Button - McLaren
Felipe Massa - Ferrari
Jean-Eric Vergne - Toro Rosso
Sergio Perez - McLaren
Nico Hulkenberg - Sauber
Pastor Maldonado - WilliamsF1
Valteri Bottas - WilliamsF1
Esteban Gutierrez - Sauber
Charles Pic - Caterham
Jules Bianchi - Marussia
Max Chilton - Marussia
Giedo Van Der Garde - Caterham
Popular in the Community