Paul Di Resta qualified in a brilliant 5th place in qualifying for the British Grand Prix, only for FIA Stewards to exclude him from the session for his car being underweight.
Di Resta, who has had a run of poor qualifying sessions in recent races having been eliminated in Q1 at both Monaco and Canada, appeared to be rewarded with a superb drive yesterday.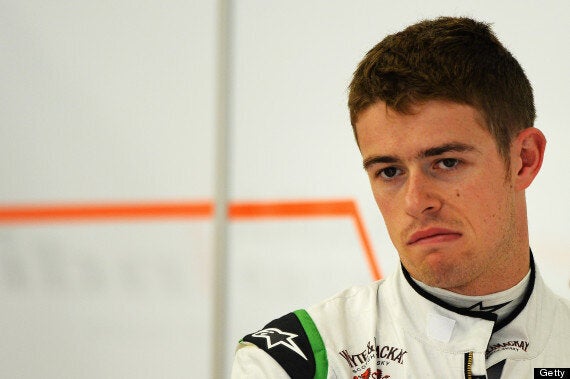 Britain's Paul Di Resta forced to start from back of grid after qualifying 5th
At post-qualifying scrutineering, Di Resta's car weighed 641.5kg, 0.5kg under the minimum required according to the 2013 Formula One Technical Regulations.
The car was then drained of fuel and the weight of the car was 640.0kg - 2kg below the minimum weight.
The scales were checked for calibration to ensure they were accurate and were found to be 0.5kg underweight themselves. However taking this into account, it was deemed that car 14 was 1.5kg below the minimum weight.
The Stewards, which include 1992 World Champion Nigel Mansell as the drivers' representative this weekend, decided to exclude Di Resta's car from the qualifying session. Di Resta will be allowed to start the race but is demoted to the back of the grid.
Di Resta was frustrated when he was overlooked for a top race seat for 2013, and relations with his Force India team are known to be fragile.
Last week it was announced they they would not stand in his way should he be approached to drive for a different team in 2014.
The circumstances of this penalty will surely only encourage Di Resta to look for a new team next year.
All eyes will now rest on Lewis Hamilton to lead the British charge who will be leading the pack off from pole position after a scintillating lap.
Di Resta meanwhile will be eager to make up for the disappointment and we will see if Force India can mastermind a strategy to get him into a worthy points finish.
Lights go out at 1pm on Sunday, with live updates via @HuffPostUK on Twitter,