George Entwistle, the BBC executive who lasted just 54 days in his job as director-general, received more than £800,000 in "remuneration" during his final year at the corporation.
Figures published on Monday show that when his salary, "compensation" pay-off and the costs to the BBC for his legal fees are totted up, the total sum comes to £802,000.
The costs include a six-figure sum related to his appearance as a witness before the Pollard Review, which looked into a shelved Newsnight investigation into the Jimmy Savile sex abuse scandal and its knock-on effect at the BBC. George Entwistle lasted 54 days as director-general
BBC pay-offs to senior staff have breached the corporation's own guidelines by being over-generous and have "put public trust at risk", the National Audit Office said on Monday.
The NAO, which has been reviewing redundancy and severance payments to senior figures, concluded they have given "poor value for money".
In a three-year period up to December, the BBC spent £25 million on severance payments for 150 high-ranking staff, according to a report.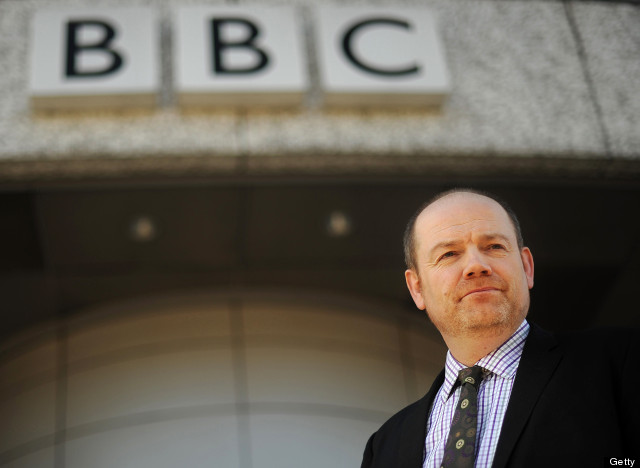 Mark Thompson ran up hefty legal costs for appearing before the Pollard Review
On Monday the Corporation released details of payments to four senior figures who have left their posts within the past year. They showed that Mr Entwistle's legal fees and associated costs - including tax and VAT payments - for appearing before the Pollard inquiry came to £107,000.
He had been in charge of the BBC's TV output at the time of the shelved report into Savile, and the erupting scandal went on to end his tenure as director-general after less than two months.
He was given £450,000 as a severance payment when he resigned and a further £20,000 for legal fees, private medical insurance and PR support. And he collected £217,000 in salary for his time as boss of BBC Vision and as director-general during his final months at the corporation.
His predecessor in the top job, Mark Thompson, also ran up hefty legal costs for appearing before the Pollard Review, with the BBC paying £86,000 to cover them.
Mr Thompson, who stepped down as director-general on 1 July last year, had a total remuneration of £503,000, according to the figures issued by the BBC. He continued to be paid as a member of the executive board until 11 November, with his pay and fees amounting to £410,000.
The former chief operating officer Caroline Thomson, whose role at the BBC ended on 30 September, had a total remuneration of £860,000 during the past financial year.
It was made up of £331,400 in redundancy pay, £335,000 pay in lieu of notice and £16,800 for legal fees. She also had £168,000 paid to her during her last six months in the job.
Thomson's previous role has now been amalgamated with that of chief financial officer under a new £395,000 position of managing director of BBC finance and operations, a role being taken by Channel 4's Anne Bulford.
The biggest payment of the four executives was to John Smith who stepped down as CEO of BBC Worldwide and received remuneration amounting to almost £1.4m.
On top of his £337,000 pay, he was paid an annual bonus of £222,000, pulled in £196,000 from a profit share plan and picked up deferred bonuses of £386,000.
In addition, Smith was given £449,000 as 12 months' pay in lieu of notice, but returned £205,000 of this after taking up a new role. His payments came from the commercial income of BBC Worldwide rather than from licence fee cash.