It feels like Idris Elba has always been famous. So robust is his grip on the public consciousness - as a TV star, an increasingly bright Hollywood luminary AND an established star of the decks - it seems as though there was never a time we didn't refer to Stringer Bell, Luther or DJ Big Driis (full name 'Big Driis The Londoner') when asked to look for definitions of cool.
So how did this Arsenal-loving Londoner who used to help his uncle out with his wedding-music business end up living in New York, and getting offers from east and west? Here's how...
The Wire (2002-2004):
As Stringer Bell, Idris Elba - whom most fans of the series didn't realise wasn't a Baltimore native, or at least American - became the backbone of the narrative, standing out even among a huge and strong cast. Elba carried off this complex role, with viewers as bemused and intrigued as Jimmy McNulty when he spotted Bell trying to improve himself in adult school, in between drug deals and other unsavoury episodes.
The Office (2009):
Because 'The Wire' was a word-of-mouth late bloomer, turning up in lists of favourite box sets several years after its broadcast on HBO, it was a while before people started pricking up their eyes at the mention of Elba. Here he is in 2009, in a six-episode narrative arc of The Office (US version), playing Michael Scott's new boss Charles Miner.
Luther (2010- ):
This pretty standard, maverick-cop-rubs-up-authority-wrong-way-gets-results police procedural has been elevated by the brooding presence of Elba in the title role. When he lost his wife, we cared. When he roughed up villains, we were scared. Basically, it's the most interesting cop we've had on the box for a while, arguably since Cracker, and talk of a film now the third series looks like being the last, is not misplaced.
Prometheus (2012):
When Elba was offered this script, the prospect of appearing in the big-budget prequel (sort of) to 'Alien', to be directed by Ridley Scott, to flirt with Cameron Diaz and share the screen with Michael Fassbender and Noomi Rapace, probably felt like a no-brainer. As it turned out, he was the redeeming aspect of this confused offering, but did his career no harm with his relaxed portrayal of ship captain Janek.
Pacific Rim (2013):
Another blockbuster, another increasingly central role, this time as Marshal Stacker Pentacost, commanding officer of Raleigh Becket, played by the film's star Charlie Hunnam. When an alien attack threatens the Earth's existence, giant robots piloted by humans are deployed to fight off the menace. 'Better than Battleship' is the current summary of reviews for the film out next week, which can only be a good thing. But Elba's role was originally pegged for Tom Cruise, and the film is helmed by Oscar winner Guillermo Del Toro, so - hit or miss - signs of what level he's now operating at are clear.
Mandela: Long Walk To Freedom (2013):
A catalogue of A-list black actors were after this role, and it's gone to Elba. At a time particularly poignant for the millions of Mandela fans, the weight of expectation and responsibility could have crushed a lesser personality. Instead, Elba has quietly taken on the challenge of portraying the world's most revered statesman in this adaptation of his autobiography, and only said, "It's a massive honour to play this saint amongst men. I was honestly confused about why they came to me. Then I found out that Nelson Mandela was into The Wire. I thought, 'It's amazing – he might have kicked back and watched the Wire box set!' I look and sound nothing like the man – but hopefully I've pulled it off." (read more here at The Independent)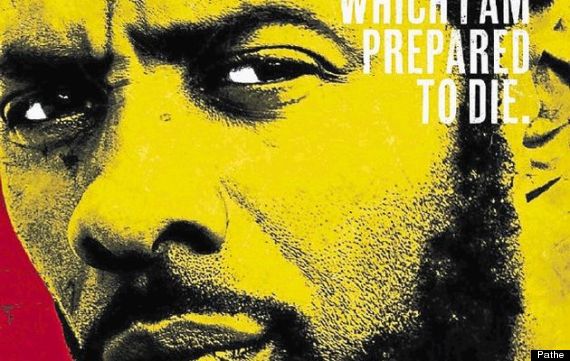 Like he said, they could have gone to anybody, but nobody has raised even an eyebrow to the fact that they went to Idris Elba. This time next year, we can confidently expect him to be one of the biggest stars in the world. Better enjoy 'Luther' while we can.