Adele has added yet another accolade to her ever-expanding collection by having her very own waxwork unveiled at Madame Tussauds.
But can you spot the real Adele?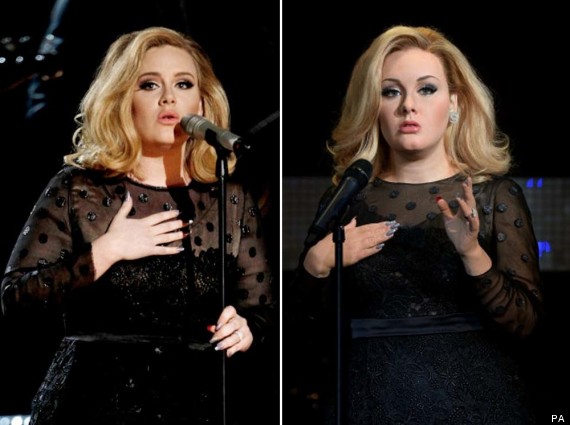 Spot the difference: Adele (left) and her waxwork (right, we think)
The Oscar-winning singer has not one, but two waxy doppelgangers with figures on display at Madame Tussauds in London and Amsterdam.
Each creation sees the 'Someone Like You' singer dressed in a replica of her 2012 Grammys dress, in back, natch.
Adele joins a host of female singers including Rihanna, Beyonce, Kylie and Amy Winehouse at the tourist attraction.
Madame Tussauds PR Manager Nicole Fenner said: "Adele is the perfect addition to the music line up here in London.
"She's one of the world's hottest properties right now and one of our most requested personalities. In fact we've seen a huge increase in requests for her figure since 'Skyfall' was released and the timing seems perfect to honour her after such phenomenal success with the song.
"She is one of the most influential British female artists and we know she is going to be a huge hit with our guests alongside our other pop greats. We're very excited to welcome her to Madame Tussauds London.
LIKE US ON FACEBOOK | FOLLOW US ON TWITTER