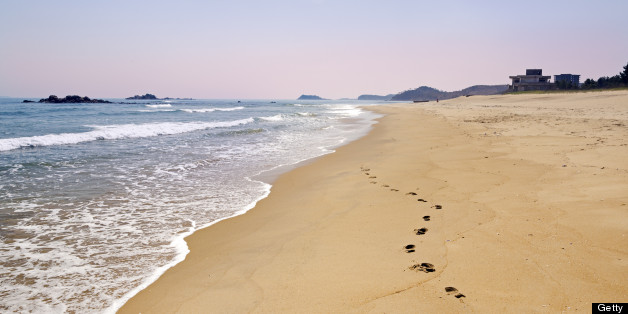 Getty
North Korea leader Kim Jong Un has made plans to build the country's first beach resort.
According to the Joongang Ilbo newspaper in neighbouring South Korea, the country's leader is transforming the town of Wonson from an industrial port to a vacation resort to boost travel.
The town, which currently houses factories and a naval base, will soon be home to a financial district, a sports and entertainment area.
The development plan features in a document called "General blueprint for the Wonsan District" and will see Wonson, which currently houses factories and a naval base, become home to a financial district and a sports and entertainment area.
But sandy beaches aren't the only plans for Wonson. Earlier this year, the Korean Central News Agency revealed plans to build a ski resort by releasing a series of images of Kim Jong Un visiting snow-covered construction sites at Masik Pass.
See Also:
According to The Telegraph, sources have said that North Korea hopes to attract foreign investors to fund the projects. "North Korea is hoping to lure investment of more than $1 million from a company in Singapore," the source says. "Completion of the project relies on whether they can attract foreign investment."
North Korea currently welcomes between 4,000 and 5,000 western tourists per year, AFP reports.
But according to a recent BBC report, although tourists are welcome to the country, their visits are strictly regulated.
"You can only visit North Korea on an organised tour," reveals Juliet Rix. "Wandering off is not an option. Merely walking towards the exit of our hotel compound on a night outside the capital caused four soldiers to appear from nowhere and shout in apparent panic."