Former Manchester City manager Roberto Mancini remains baffled by his sacking, claiming he did "an extraordinary job" at the club.
The former Inter Milan boss was dismissed on May 13 - the anniversary of the previous season's dramatic Barclays Premier League title success - after three days of mounting speculation over his future.
City said Mancini, who has since been replaced by Manuel Pellegrini, had "failed to achieve any of its stated targets this year, with the exception of qualification for next season's UEFA Champions League".
Mancini, who was vocal about his disenchantment after the FA Cup final loss to Wigan, was quoted in Italian newspaper Corriere dello Sport as saying: "Even now, (almost two months) later, I still do not understand why. It is still painful, I admit. I think I deserved more respect for what I had done for Manchester City.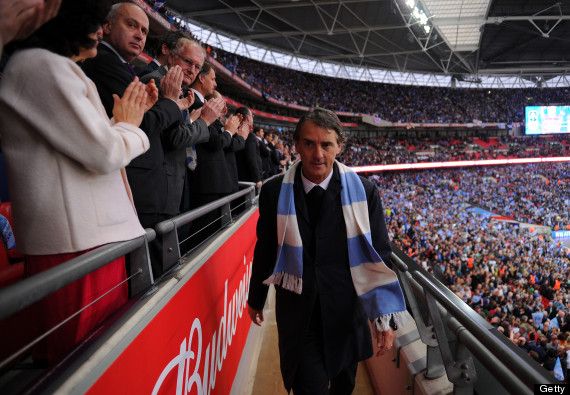 Mancini's final match was the FA Cup final defeat to Wigan
"In three and a half seasons with my staff, I believe I did an extraordinary job.
"The club had not won a (league) title for more than 40 years. I won a championship title, FA Cup, a Community Shield and, in the worst season - the last one - I lost a final and I came second (in the league).
"The numbers are clear. This sacking still does not have a reason.
"The Arabs called me and said to me 'in three years we want the title', and I won it in the second year. And then I rebuilt a club that was not at the top level of football. Evidently, chairman Khaldoon (Al Mubarak) must have had in his head some situations that were not true."
Mancini also pointed a particular finger of blame towards chief executive Ferran Soriano.
"For him, I was a person too big (within the club). He and I did not speak the same language and I do not mean Italian, Spanish or English," he added.