Novak Djokovic defeated Juan Martín del Potro in the longest Wimbledon semi-final after a magnificent match of tennis.
Djokovic defeated the number eight seed 6-4 5-7 7-6 6-7 6-3 after an exhausting four hours and 43 minutes of phenomenal tennis from both players.
The world number one and 2011 winner's renowned endurance was pivotal and he will face either Andy Murray or Jerzy Janowicz in Sunday's final.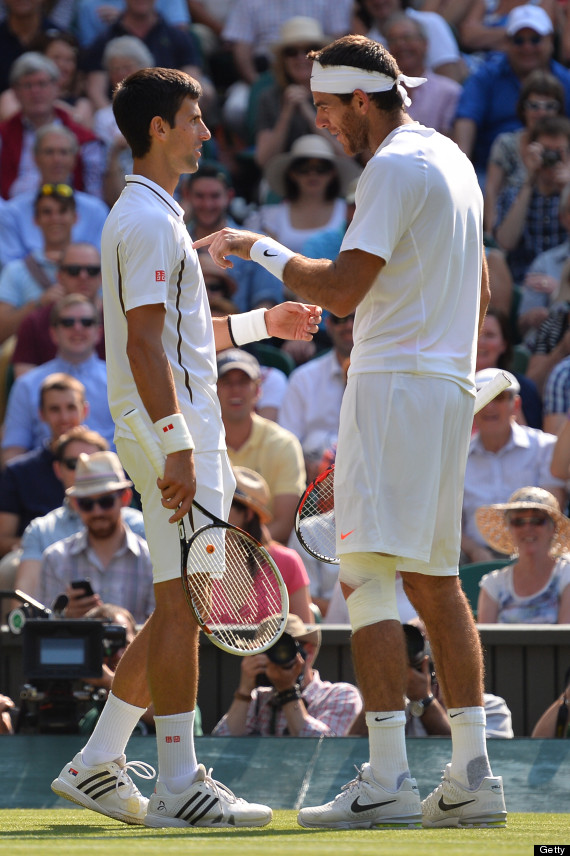 Djokovic and Del Potro share a joke during the frenetic fourth set
Del Potro saved two match points in the fourth set, the first coming after one of the great gladiatorial rallies as 24 shots were exchanged.
It was a match laden with absorbing rallies, Djokovic's outrageous covering, net cords and forehand winners worthy of a speeding ticket from Del Potro.
The spirit of the match was impeccable, as well. The jocular Del Potro conversed with spectators following sapping points and the duo even shared a joke after one combative rally.
So gruelling a contest was this epic that the usually evergreen Djokovic returned to the baseline after an interval stretching his thighs and calves in a scene similar to the Ministry of Silly Walks.
No match report, however lengthy, can do this contest justice on what was a glorious day in SW19.