After exercising it's nice to pamper yourself. For me that pampering is usually limited to using a dollop of cheap body moisturiser before I hurriedly get dressed and leave the gym.
Lately, the more I've been exercising the dryer I have found my skin becoming. Which is how I ended up intrigued by sports beauty products that promise to replenish moisture after working out.
I've always been skeptical about creams with magical claims that promise to tone and transform the look of your skin. But since I'd never tried one I thought it was worth testing some out.
I chose !QMSMediCosmetics Sports Set as my guinea pig, which claims to be "active skincare for active people".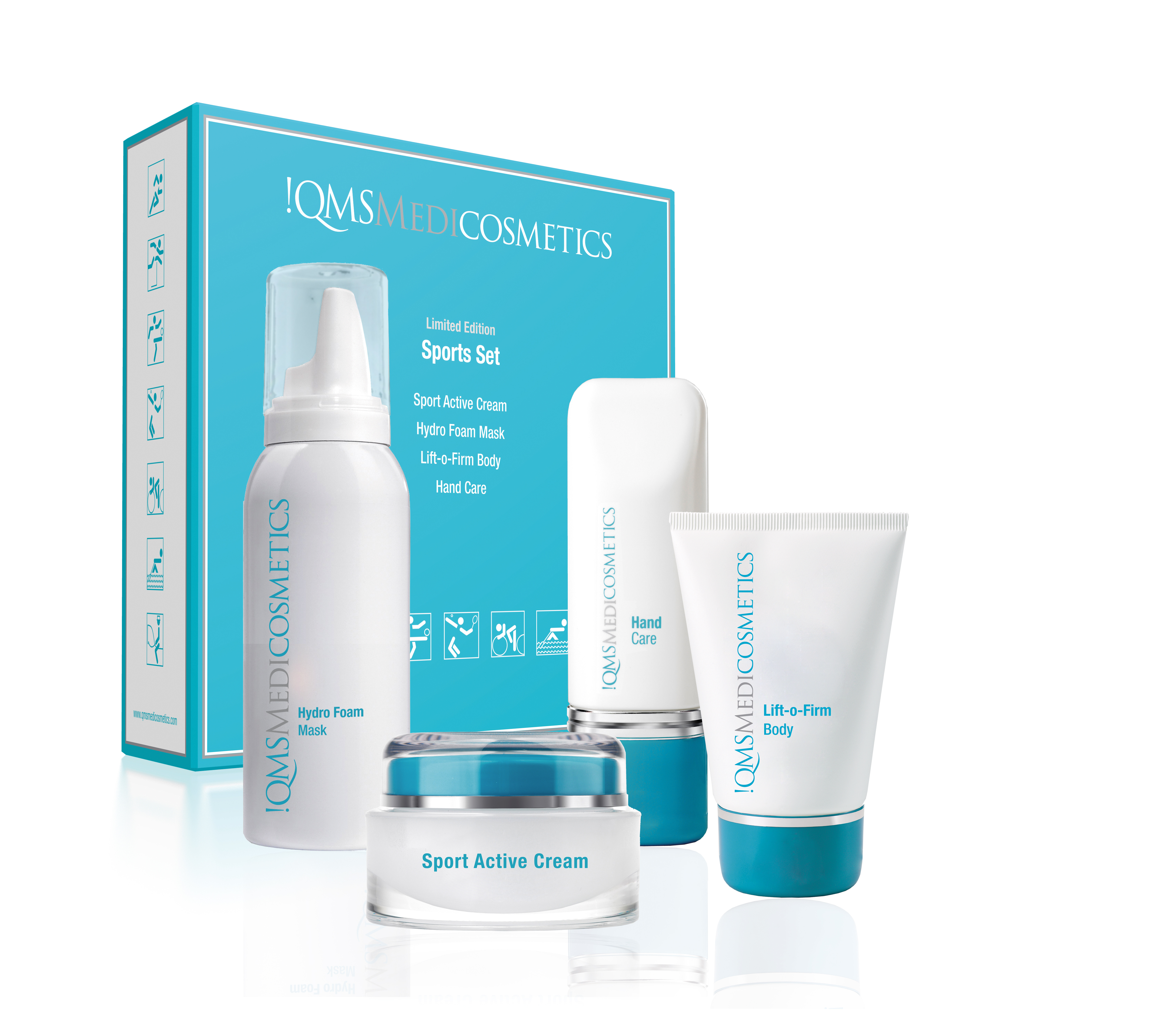 The set comes in handy small travel sizes perfect for carrying in your gym bag and is made up of four moisturising products.
Here's what I made of each product, formulated by Dr. med. Erich Schulte - an aesthetic surgeon and authority on skin ageing:
Sports Active Cream
Description: A lightly tinted day cream suitable for all skin tones. Covers imperfections and leaves skin glowing.
Result: A tinted cream is a great idea as you often don't want to apply foundation to a clean face after leaving the gym. However, this one was too dark for my skin tone, didn't cover any imperfections although it did slightly even out the skin. It certainly left my skin glowing but I think more in a shiny greasy way than a desirable glow.
Hydro Foam Mask
Description: An instantly hydrating foam mask which provides intense moisture and soothes the skin.
Result: You're meant to leave this on for up to 15 minutes so it's not great for using in the shower at the gym. I used it at home though and loved it. Strangely it smells like play-doh – not your usual fruity facemask – but I took this to mean it would work. And it did, the foam which comes out the bottle like shaving foam melted into my face and left it really soft.
Lift-o-firm Body
Description: A sculpting cream that firms problem areas such as legs, stomach, upper arms and breast area.
Results: It felt like an expensive cream and my skin felt smoother for a bit afterwards but I'm not convinced it actually "firmed" problem areas.
Hand Care
Description: Intensely moisturising and uniquely protective cream for the hands.
Result: This is a great handcream and doesn't feel oily. My hands often get sore after using weights so I will keep using this post-gym.
The QMS Medicosmetics inaugural Sports Set costs £79. Will I be using these creams after every work out? Probably not. But they are nice for a treat.
Stockist details are available worldwide on www.qmsmedicosmetics.com, nationwide on Liberty's website and in the flagship spa in Sloane Square london.