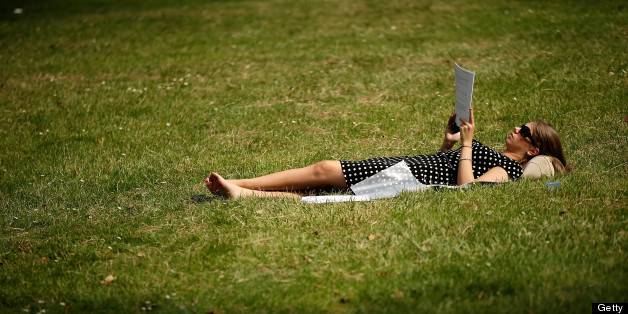 Getty
Southerners are set to swelter in Mediterranean temperatures over the weekend, with even the north of UK expected to bask in sunshine and highs of up to 30C.
But the best news is the hot weather is set to stay, with Gareth Harvey, forecaster with MeteoGroup, the weather division of the Press Association, saying "it could it could be with us for a fair while.
"There'll be high UV levels so anyone who is out and about will need their sun screen."
Get ready to bake in the sunshine
It's a welcome change, with the last time the country enjoyed a long spell of warm July weather being 2006, where temperatures were above 28C in many areas for a fortnight.
Many parts of the country will enjoy temperatures on par with popular Spanish holiday resorts, Mr Harvey added.
The mercury will hit the mid 20s for most of England and Wales tomorrow, with southern areas reaching 28 to 29C.
Parts of Scotland will see more cloud but temperatures will remain in the low 20s.
Forecasters predicted highs of up to 29C (84F) in London and the south east of England on Sunday, with those attending - and indeed competing in - the weekend's Wimbledon finals set for sweltering conditions.
More recently, temperatures peaked at 30.7 °C between 23 to 26 July last year.
The previous highest temperature of the year was 27C (80F) on June 30 but recent years have seen Britons endure wet and overcast summers.