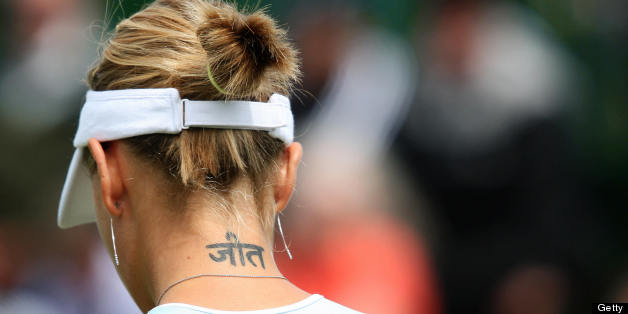 Getty
If you think Wimbledon is all about tennis, think again. What players such as Serena Williams, Andy Murray and Maria Sharapova wear, from personalised outfits and trainers to jewellery and make-up, has garnered as many column inches as the sport itself.
These days, what with everyone and his uncle sporting tattoos, it seems that some players on court like something a bit more permanent than a snazzy sweat band.
Tennis star Janko Tipsarevic has got so many that his wife has banned him from getting anymore by wife Biljana
We're so used to seeing footballers covered in tats, that we wonder if tennis will go the same way. Well, they'd better hope that they aren't banned from getting anymore by their trainers or coaches, after German football club Werder Bremen were forbidden from getting anymore tattoos.
See if you can match the tattoo to the tennis star: