Red Bull team principal Christian Horner says safety equipment should be worn by all personnel working in the Formula One pit lane.
Horner made the comment in the wake of a sickening incident that occurred during Mark Webber's first stop during today's German Grand Prix.
As Webber pulled out of his pitbox, the right-rear wheel detached itself from his car and bounced past Ferrari, Lotus and Mercedes mechanics before thudding into FOM cameraman Paul Allen.
Allen was immediately attended to, and after being treated at the Nurburgring medical centre was flown to nearby Koblenz hospital where he was diagnosed with a fractured collarbone and two broken ribs.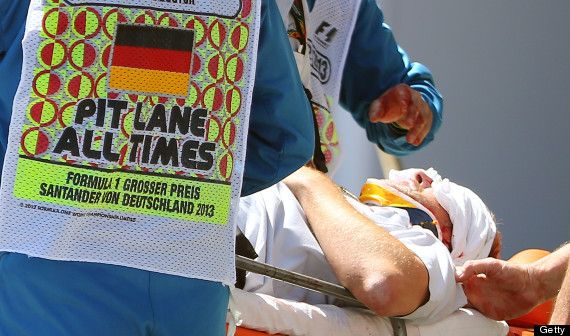 Paul Allen is taken away on a stretcher after being hit by a wheel
Horner said: "When you see something like that it's a horrible feeling because your immediate concern is for that individual.
"It must be shocking for his family as well to see something like that.
"From our side we need to understand fully what happened, why the wheel wasn't located, obviously detaching itself from the car with quite a bit of energy.
"The most important thing is he is fundamentally okay, but it was a timely reminder that life in the pit lane is still a pretty dangerous place to be, that things can go wrong.
"Mechanics have to wear safety gear and helmets, and maybe it's time some of the other operational people in the pitlane have some safety equipment as well."
Although Webber was aware he had lost a wheel, he was not informed until after the race that it had struck Allen.
"Once he knew he was obviously very concerned for the wellbeing of the camera guy, and pleased to hear he is okay," added Horner.
Red Bull were fined 30,000 euros (£26,800) for the unsafe release of Webber's car from the pits.
The Australian went on to finish seventh, while team-mate Sebastian Vettel won the race.