It's a long summer without a Danish drama in sight on the box. Fortunately, this house is being kept entertained by the stunning 'The Returned' over on Channel 4, but it would still be nice to have a glimpse of our Scandi-friends.
Fortunately, Arrow Films have seized the baton and released two more high class offerings from their bottomless well of Nordic Noir. And in better news, they both star Mads Mikkelsen, now celebrated as a Bond villain (Le Chiffre in 'Casino Royale') and the Cannes Film Festival award-winning lead of 'The Hunt' - our review here.
Borgen, The Bridge, The Killing, The Hijacking... Click here for all things Nordic Noir, including interviews with lots of the main actors and writers
Regular readers of this page will know that a) we're big fans of Mads M, and b) Mads is NOT a big fan of his own early work. You can read what he has to say about it here, but in the meantime, his name on the cast list is normally a guarantee of a high-quality watch, and these two titles are no exception...
A standard crime thriller made back in 2006, with Mikkelsen starring as Joseph, a businessman in the frame for his senior partner's murder. Lots of shots of office interiors, stunning Swedish lakes (it's a Swedish production) AND Alexander Skarsgard in a pre-'True Blood' turn all make this an easy watch for seasoned Nordic Noir fans. Available here today from Arrow Films.
A dip back in to the lives of this elite unit of Denmark's homicide squad, who bring their investigations to the scene of the crime, housed in a big bus driven by a national football legend. As you do. It's all the same faces from Series 1, but with their lives moving on a notch.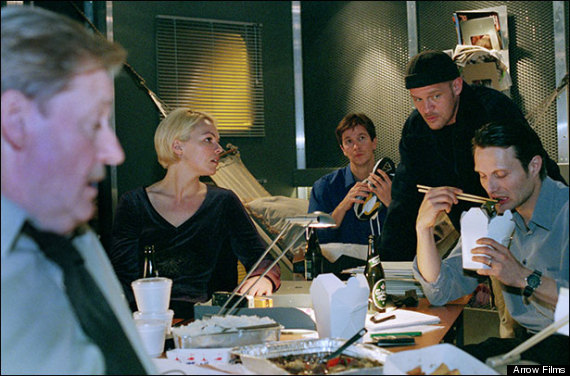 Back on the bus... the crack squad of Unit One
At the head of the bunch, Ingrid (Charlotte Fich) is seemingly recovering from the shock of her sudden widowhood in the first series, and stepping tentatively back into dating land. Fischer (Mikkelsen) is still married, but with temptation looming. As for the others... give it a go. Stories, based on real-life cases, include a defence lawyer with a dodgy private life, and an abducted boy meaning a trip to London and some shots of Big Ben. But it's all about what's going on inside the bus.
DVD released Monday 22 July - click here for more info.
MORE: Charlotte Fich tells HuffPostUK how her character paved the way for The Killing's Sarah Lund