Arsenal's Brit Pack have unveiled their new yellow away strip in front of the Emirates Stadium.
Theo Walcott, Alex Oxlade-Chamberlain, Jack Wilshere, Kieran Gibbs, Carl Jenkinson and Aaron Ramsey, the British heart of the Arsenal team, were all on hand to reveal the new Nike kit.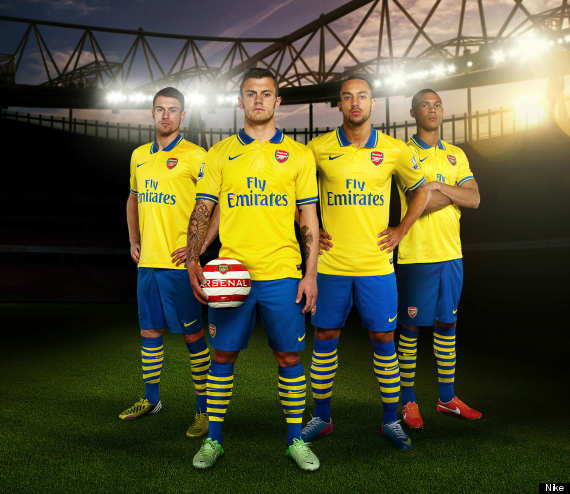 Arsenal's British stars in the new yellow and blue strip
Using the traditional Arsenal away colours of yellow and blue, the design is aimed at a new generation of fans. The shirt is yellow with a blue polo neck collar and deep blue cuffs on the sleeves, both featuring a thin yellow stripe. The collar replicates a polo shirt and reflects the best of London style from fine gentleman's tailoring to urban street wear.
The new away shorts are blue while the new away socks feature the traditional Arsenal hoop sock design in blue and yellow, harking back to the style of those worn in the 1930s under the innovative stewardship of Herbert Chapman.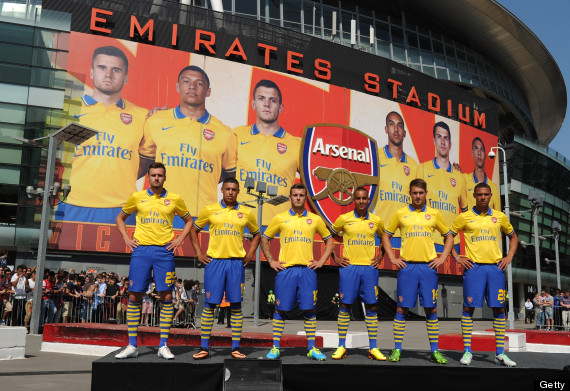 Carl Jenkinson, Alex Oxlade-Chamberlain, Jack Wilshere, Theo Walcott, Aaron Ramsey and Kieran Gibbs of Arsenal poses during the launch of the new away kit
The exterior of the Gunners' home has been transformed with a giant banner of Alex Oxlade-Chamberlain, Kieran Gibbs, Carl Jenkinson, Aaron Ramsey, Theo Walcott and Jack Wilshere all sporting the new Nike strip over the stadium core located at the corner of the Clock End and West Stand.
Speaking about the new kit, Theo Walcott said: "The kit looks and feels great. I'm really pleased it's yellow and blue - the Club's enjoyed lots of success in these colours and so many legendary players have worn them. I can't wait to get out on the pitch and wear it!"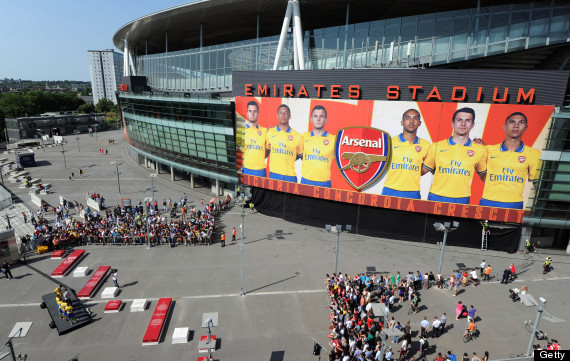 The new kit was launched in the shadow of The Emirates Stadium
Aaron Ramsey added: "We're delighted with the new kit. The boys are happy with the way it fits and feels and now hopefully we can go out and perform in it on a Saturday as well."
The kit is available to pre-order now at www.arsenaldirect.com and will be available in stores from Thursday, August 1