If baking conjures up images of red velvet cupcakes and victoria sponge cakes, you'd better think again.
Mark Hix On Baking is as sweet as it is savoury.
From an everyday vegetable gratin to a fancy tarte aux pommes -- and everything in between -- this book shakes baking to its very core.
HuffPost UK Lifestyle are proud to bring you a selection of the tasty recipes, Sausage Rolls, Profiteroles and Ham Hock Snail And Wild Garlic Pie.
Enjoy.
Tweet us pictures of your culinary triumphs @HuffPoLifestyle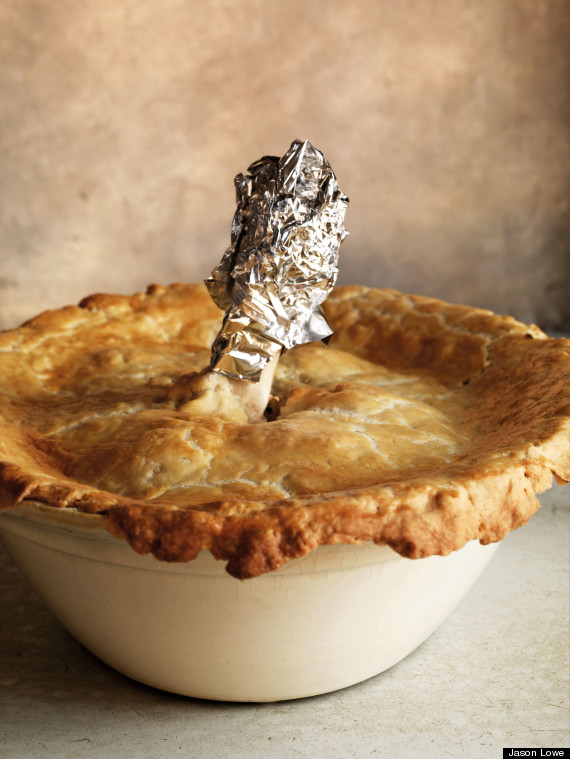 HAM HOCK SNAIL AND WILD GARLIC PIE
We tend to associate cooking snails with France and Spain but there is a snail eating culture in Britain which dates back about 2000 years, although there are no specific British recipes for snails like in France. I've used them in various ways with, say, wild rabbit cooked in cider, as a soup garnish and in pies like this. Though you can purify your own garden snails, it's a bit fiddly, so I suggest you use bought cooked ones here.
Serves 4
1 x 700g–1kg ham hock
4 medium onions, peeled and halved
1 tsp black peppercorns
1 bay leaf
70g butter
60g flour
100ml white wine
16–20 plump cooked snails, shells removed
a handful of wild garlic, chopped (or garlic chives)
salt and freshly ground black pepper
1 medium egg, beaten, to glaze
For the pastry
225g self-raising flour
1 tsp salt
85g shredded beef suet
60g butter, chilled and coarsely grated
150–175ml water
plain flour, for dusting
Place the ham hock in a large pan with half the onion, the peppercorns and bay leaf. Cover with cold water and bring to the boil, then lower the heat and simmer for 1 1/2 –2 hours, or until tender. Remove the hock from the pan, reserving the liquid, and leave to cool. Once cool, remove and discard any skin and remove the meat from the bone. Reserve the bone, cut the meat into rough 3cm chunks and put to one side. Strain the liquid through a fine strainer, measure out a litre and add to a pan over a low heat to keep hot.
Finely chop the remaining onion halves, add to a heavy-based saucepan, with the butter and cook for 2–3 minutes until soft. Add the flour and stir well. Gradually add the white wine, stirring to avoid any lumps. Then add the reserved ham stock, stirring, bit by bit. Bring to the boil and simmer gently for 30 minutes. The sauce should be quite thick by now – if not, continue simmering for a little longer. Remove from the heat and leave to cool a little. Add the ham hock meat, snails and garlic and season to taste. Fill a large pie dish with the mixture.
For the pastry, mix the flour, salt and suet together in a bowl. Add the butter and rub with your fingertips until you have a fine breadcrumb-like consistency. Mix in the water to form a smooth dough, then knead for a minute.
Roll out on a lightly floured surface to about a 7mm thickness. Trim until about 2cm larger all the way round than the rim of your pie dish. Place the ham bone in the centre of the pie. Brush the edges of the pastry with a little of the beaten egg, make a slit in the centre for the bone and lay the pastry on top of your pie, pressing the egg-washed edges onto the rim of the dish. Brush the top of the pastry with beaten egg and leave to rest in a cool place for about 30 minutes.
Preheat the oven to 180ÅãC/gas mark 5. Bake for about 45 minutes, or until the pastry is golden brown. Serve at once.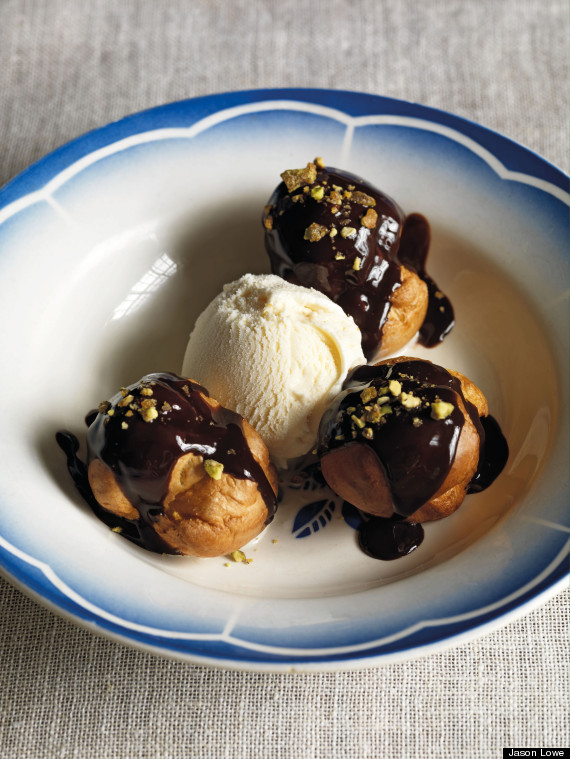 Profiteroles
Profiteroles seem to have vanished from restaurant menus – a result, perhaps, of the demise of the dessert trolley. This seems to me to be a shame, as a profiterole that oozes cream when you bite into it is a wonderful thing (especially when served with hot chocolate sauce). You can serve them just like this or make the dish a little more indulgent by adding some ice cream and scattering the profiteroles with lightly toasted, sugared nuts like almonds or pistachios.
Makes 20–25 large or 40–50 small profiteroles
125ml milk
125ml water
100g butter, diced
1/2tsp salt
1 tsp caster sugar
150g plain flour
4 eggs, beaten
1 egg yolk beaten together with 1 tbsp milk, to glaze
For the filling
250ml double or whipping cream
a few drops of vanilla essence
60g caster sugar
Put the milk, water, butter, salt and sugar into a saucepan and bring to the boil. Remove from the heat, mix in the flour and stir with a wooden spoon or spatula until smooth. Return the pan to a low heat and stir for about a minute until the mixture leaves the sides of the pan. Transfer to a bowl.
Gradually whisk the beaten eggs into the mix, one by one, until the mixture is smooth and shiny. Preheat the oven to 175ÅãC/gas mark 4.
Take a non-stick baking tray or line a baking tray with baking parchment. Load the choux pastry into a piping bag and pipe small or large rounds onto the tray 3–4 cm apart. (For eclairs, just pipe the mixture into short or long straight lines about 6–8cm thick using a 2cm nozzle). Brush the tops with the egg yolk mixture and bake for between 10–20 minutes depending on the size, or until the profiteroles are golden and crisp. Remove from the oven, leave to cool a little and transfer to a cooling rack.
To make the filling, whisk together the cream, vanilla essence and sugar by hand or using a mixing machine until fairly stiff. Load the cream mixture into a piping bag, make a hole in the base of your profiteroles and pipe in. Serve as they are or with ice cream and chocolate sauce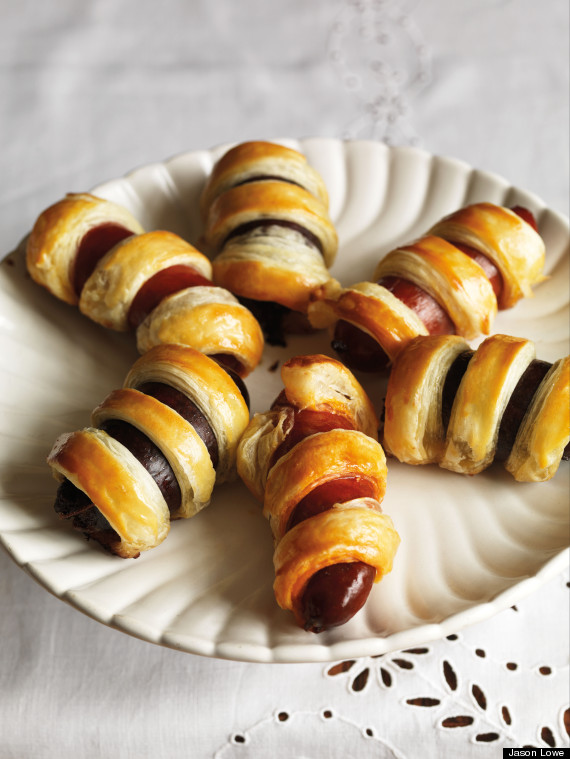 SAUSAGE ROLLS
Sausage rolls don't have to be those bland, boring, ready-cooked things from the supermarket that get dished up a children's parties. When made with good-quality, interesting sausages such as cooking chorizo or black pudding they make great snacks for munching.
Serves 8
200g ready-made all-butter puff pastry
8 mini cooking chorizo, morcilla or good-quality pork sausages
1 egg, beaten
Preheat the oven to 200C/gas mark 6.
Roll out the pastry on a floured table to about 3mm thick, then cut into 3mm wide strips. Wrap the pastry around the sausages leaving a gap about the width of the pastry and keeping the ends on one side of the sausage (i.e the underneath when cooking). Place the sausages on a baking tray and brush the pastry with the beaten egg. Bake for about 20 minutes, or until the pastry is golden.
Mark Hix On Baking, £20, Quadrille
LIKE HUFFPOST UK LIFESTYLE ON FACEBOOK | FOLLOW US ON TWITTER
The Huffington Post UK are proud media partners of Wilderness festival. Check back here for more exclusive blogs, competitions and stories soon. For tickets to the event click here: www.wildernessfestival.com
Watch a trailer for this year's Wilderness and check out some pictures from last year below...