Andy Murray is the best tennis player in the world, according to his coach Ivan Lendl.
The Scot finally ended Britain's 77-year wait for a men's singles champion at Wimbledon on Sunday, beating Novak Djokovic in three gruelling sets US Open triumph.
He remains a distant second to Djokovic in the ATP's official world rankings, though it is not impossible he could close the near 3,000-point gap to the Serbian by the end of the year.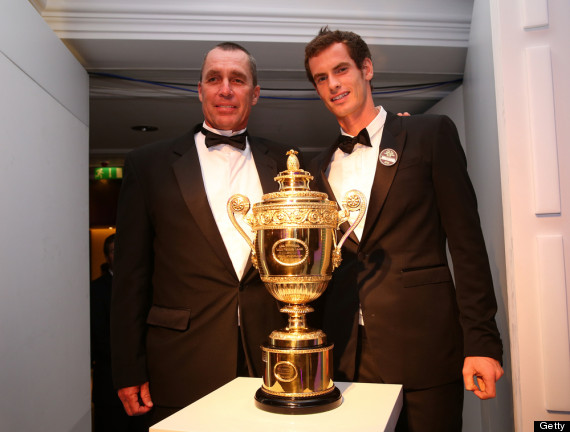 Murray and Lendl at the Wimbledon winners' ball on Sunday
But Lendl believes 26-year-old Murray's major double, as well as his Olympic gold medal, makes him the man to beat.
"Every champion knows how many majors they won," said Lendl. "Nobody remembers how many weeks they were number one.
"Novak is a great player, don't get me wrong. He has had a phenomenal last 12 months [and] basically since the start of 2011, so the rankings look at all of that.
"[But] if somebody has two majors and an Olympic gold medal, and everybody else [holds] only one major, everybody can make their own opinion on that."
Murray has reached the final of the last four Grand Slams he has played in, having lost to Roger Federer at Wimbledon last year, defeating Djokovic at the US Open and losing to the Serb in this year's Australian Open.
Lendl, himself a seven-times slam winner, claims Murray's defeat to Federer, which the Scot labelled the "toughest moment" of his career, has galvanised the world number two.
"This one was more difficult to win because there was more pressure on Andy than there was at Flushing Meadows," he said.
"If he hadn't played last year's final then he wouldn't have been prepared that well [this time]. I think it was a great experience to have. Any time you play a major finals and you get that experience I think it's very important.
"My expectations were to do the best job I can to give Andy the best chances to win as many as he can. And that's pretty much what happened."