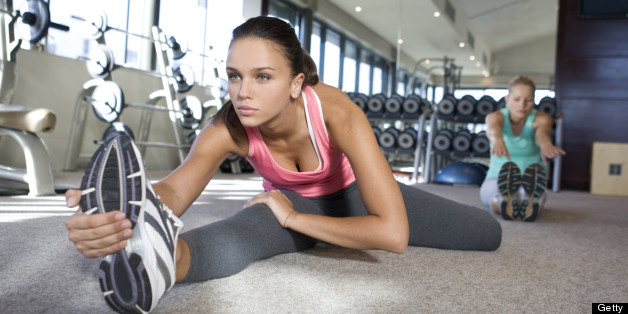 Getty
HuffPost UK Lifestyle have teamed up with Weight Watchers and Power Plate to bring readers a fantastic competition to help you get in shape this summer.
We all know how important looking and feeling your best is, so we're giving readers the chance to win their very own 'Power Plate my3' worth £1500 and a supply of Weight Watchers West Country Thick Double Cream and Crème Fraiche.
ENTER ON FACEBOOK
A balanced diet is key to staying in shape and thanks to Weight Watchers foods there is no need to miss out on your favourite accompaniments to those summer salads and fresh fruit with their West Country Crème Fraiche and Thick Double Cream.
Produced using fresh British Milk and with a ProPoints® value of 1 per 30g serving each, they are ideal for both sweet and savoury dishes.
The Power Plate my3 machine is the trimmest, most convenient way to bring Acceleration Training™ exercise into your home. No matter how demanding your schedule, you can make room for three quick full-body workouts a week.
Power Plate machines use the principles of whole body vibration to stimulate the body's natural response to vibration. These vibrations transmit waves of energy throughout the body, activating muscle contractions between 25 and 50 times per second, enhancing overall performance in sessions as short as 15 minutes a day, 3 times a week.
Visit www.weightwatchersfoods.co.uk and www.powerplate.co.uk for more info.
By entering this prize promotion, you accept and agree to be bound by the following terms and conditions:
1. The prize promotion is open to all UK residents (including Northern Ireland) aged 18 years or over except employees (and their families) of AOL (UK) Limited, M&G Investments, and any affiliates or subsidiary companies, as well as representatives or agents of AOL and anyone else who may be involved or connected with the prize promotion. Any entries submitted by agents or third parties will be invalid and will not be accepted by the Promoter.
2. You may enter this prize promotion by entering your details and submitting your entry on Facebook
3. There will be one winners. The prize is non-transferable and non-refundable and there are no cash alternatives.
4. The prize will be issued by Power Plate and Weight Watchers Foods, (the "Prize Provider"). By entering this prize promotion, you agree that if you are selected as a winner, AOL (UK) Limited may pass the data submitted on your entry email to the Prize Provider who will issue you with your prize.
5. The prize promotion closing date is 23:59 on 19 July 2013 (the "Closing Date") and any entries received after the Closing Date will not be accepted by the Promoter.
6. The winning entries will be selected at random on 23:59 on 19 July 2013 and the winners will be notified via email. To contact you we will use the contact details supplied by you when entering the prize promotion.
7. If you are notified of a winning entry, you must confirm acceptance by both telephone and email to claim your prize. If you do not reply to confirm acceptance within 3 days of being notified as a winner, we may offer your prize to someone else. The quicker the prize is accepted, the quicker we will be able to dispatch the prize.
8. Only one entry per person is permitted.
9. Submission of entries will not constitute proof of receipt and no responsibility will be accepted by the Promoter for entries or acceptances which the Promoter does not receive. The Promoter shall not be liable for any loss or corruption of data in transit. No responsibility will be accepted for entries or acceptances which are lost, delayed or damaged in the post or elsewhere. Illegible, incomplete, late or defaced entries will be disqualified.
10. The prizes must be taken as offered. No cash equivalent or other alternative prizes are available in whole or in part except as provided for in these terms and conditions.
11. All prizes are non-transferable and where prizes consist of tickets to events, all such tickets are non-refundable. The Promoter reserves the right to substitute prizes of an equivalent value should the prize(s) become unavailable for any reason. If any winner is not able for whatever reason to accept the prizes, then the Promoter reserves the right to award the prizes to another participant.
12. A list of winners' names and locations can be obtained by sending a SAE to the Promoter after the day that it closes.
13. The winners agree to participate in any publicity or other such promotional activities which the Promoter may reasonably require in connection with the prize promotion and the Promoter shall have the right to use each winner's name, likeness, image, voice and biographical information for advertising and promotional purposes in connection with the prize promotion in all media without further notice and without the need to make any payment to any winner for such use.
14. The decision of the Promoter is final and binding and no correspondence will be entered into regarding the outcome of the prize promotion.
15. Promoter: AOL (UK) Limited, Shropshire House, 11-20 Capper St, London, WC1E 6JA.
16. Prize Provider: Power Plate and Weight Watchers Foods