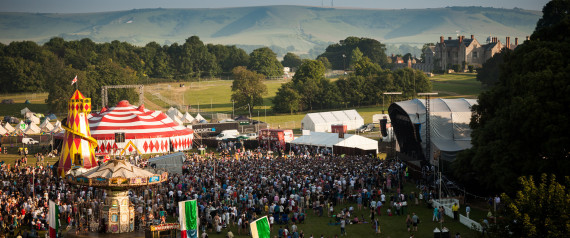 ★★★★☆ Sunny, soulful - and supremely good
Backstage at Britain's first greenfield jazz festival in 20 years, Festival Director Ciro Romano told me that his ambition was to create "North Sea Jazz meets Latitude". And in Love Supreme, Romano, his fellow organisers and festival partner Jazz FM may well have done just that.
The fact that the sun was beating down on the festival - held in the grounds of Glynde Place in the beautiful South Downs - naturally helped its mood, of course. As did the friendly atmosphere, fairground rides and the diverse audience - who ranged from tiny kids to pensioners.
But the key element was, quite simply, the music. Jazz is a broad church - and in cannily programming a mixture of artists jazz purists would appreciate and mainstream acts that would appeal to a wider base, Romano and jazz promoters Serious not only ensured that several denominations of this church were represented but also gave their festival audience a chance to discover new or niche acts they might never otherwise stumble across, let alone watch live and enjoy. And at a small festival such as this, of course, you have a chance to do just that. There were five stages, and you were never more than one minute walk away from another arena where you could check out another impressive act (and one most likely of a different jazz or jazz-influenced persuasion).
There were heavyweight American stars like Brandford Marsalis, Esperanza Spalding, Marcus Miller and Melody Gardot. There were exciting newcomers like Josephine, Michael Kiwanuka, Lucinda Belle and Oli Rockberger. There were more alternative instrumental jazz outfits like Portico Quartet and Troyka; the soaring, soulful jazz tones of Gregory Porter; the funk of Brand New Heavies; the sheer, unadulterated joy of Chic and Nile Rodgers; the bandstand showcasing fine locally sourced jazz acts. Hell, there was even a playback of John Coltrane's 'Love Supreme' on Sunday morning.
In short, there was something for everyone.
There were, understandably, a few teething troubles that will no doubt be sorted in future years (and hopefully there will be future years); and the headlining set of Bryan Ferry's Jazz Orchestra didn't quite hit the mark - not only because the reimagining of Roxy Music hits in a trad jazz style feels like one idea repeated over and over again, but also because those reimaginings were interspersed with distinctly non-jazz performances of other Roxy Music hits.
But there were so many brilliant highlights and memorable moments - most notably the early Saturday evening set by the world's best function band, Chic. As at Glastonbury the weekend before, Nile Rodgers and his musicians led a grinning, dancing audience through a blistering set of their own songs and those Rodgers has written or produced, and brought people up on stage for their final song. Unlike Glastonbury the weekend before, you could get to the front of the stage to enjoy all this just five minutes before they were due to start - just one of the advantages of a smaller, more relaxed festival like this.
On Sunday, a beaming Ciro Romano told me: "There was one moment, when I was watching Chic and the sun was setting... I could see the South Downs on the left, Glynde Place house on the right, Nile Rodgers singing 'Good Times' and everyone jumping up and down - and I thought: 'This is what I wanted'."
It's what the British music festival scene - and specifically the British jazz scene - has wanted, too. Good times, indeed. Here's to many more of them.