A
American Apparel's approach to basic staples, clean lines and considered prints is as logical and calculated as Alfred North Whitehead's approach to Analytical Philosophy. It's all about the mathematics of cool dude. Accessorise with a compass attached very precisely to a silver neck chain.

B
Flamboyant Bernhard Willhelm's designs are described as off-the-wall and other worldly. Like 20th Century Cosmic Philosophers, he enjoys a modern and cult following who will marvel starry-eyed and wonder at the breathtaking beauty of his effusive, eruptive work.

C
Comme Des Garcons, like many "conceptual" designers, is concerned with proportions and abstractions that go above and beyond the call of duty for most garments. As such Comme Des Garcons is the best in Fashion Irrationalism by way of expanding and complicating his clothes in size more than we actually needed.

D
Diesel say "be stupid". They say that to promote love in their new adverts and advise listening to your heart. Of course there's only one philosopher to note when mentioning Diesel and that's Arthur Schopenhauer, otherwise known as Dr Love because his life's work had a great interest in the heart.

E
Eley Kishimoto produce interiors and garments designed as pretty eye candy. As such they can be located as part of Eli Siegel's Aesthetic Realism philosophy which is concerned with the beauty inherent in Yin/Yang opposites.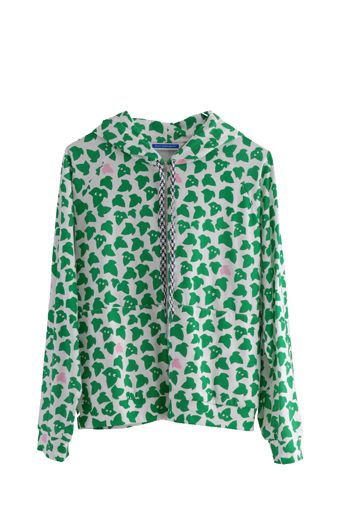 F
Fred Perry, with its strong identity and long-standing staples, is evidentially a true Endurantist. Not only are his polo T-shirts designed straight forward, like the Endurantist philosophy, but also I can confirm they exist in full at every moment you chose to wear.

G
Gareth Pugh's signature is his chevrons which he's said are based on "warning signs" so in effect there's something quite predatory about the women wearing his outfits. While his collections have been based on art and fables, his overall study of human morals and conditions make him very much a Realist.

H
Hussein Chalayan executes his vision for the future with sci-fi garments that turn today's world into the Metropolis. He's a superhero with magic powers and is peacefully concerned with truth and justice - just like Socrates.

I
Ice by Iceberg is eternally young and fun. Death doesn't seem to enter the arena here. And so we can locate its philosophy in ancient Buddhist scriptures for its conviction in reincarnation and eternal youth.

J
JC-DC - my oh my! - the blasts of colours we gleefully take in here. Warped and distorted, loud and brash. Here's a designer that's in yer face just like artist and philosopher Francis Bacon. Not only that but the impact of JC-DC clothes is immediate like our instincts - something that Bacon relied on a lot. Apparently he got fired from a job once and if you pitched up to your lame office job wearing a creation by Jean, you might get sacked too! Nothing to be ashamed of.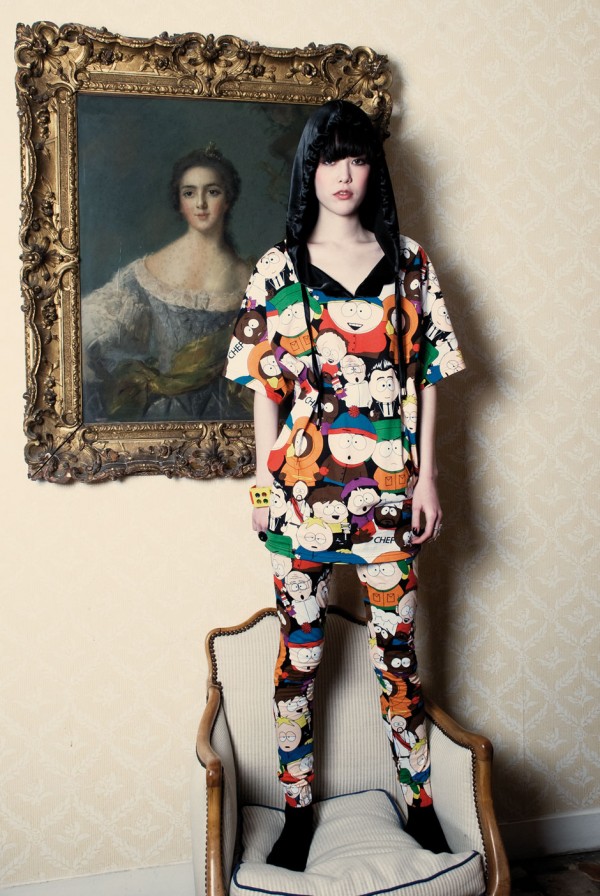 K
There's something a bit voodoo about Komakino's latest all-black menswear collection and one can only concur the label is somehow channelling Trithemian Demonic Magic, a fearful concept outlined by Heinrich Cornelius Agrippa, medieval author of a book about Occult Philosophy.

L
Levi's market themselves as the rebellious black sheep of the fashion community - going against denim's conventional grain. This means they'd get along in their own punky way with the Zen Buddhists who are known as Anti-Philosophers.

M
McQ, like the Alexander McQueen label, is intricately stunning like life, but also dark in parts with light often absconding from the equation. McQ and McQueen are Existentialist labels. There is no fate or God in Existentialism. McQueen notoriously left nothing to chance in his work and so his clothes are expertly cut and executed. We're all alone here.

N
Let's do it, Nike! Let's run one thousand miles up a cliff, bravely descend a crumbling mountain or take to a canoe and try and row defiantly and energetically up a menacing and forceful waterfall. The sports brand of choice, like Friedrich Nietzsche, believes in pushing it to the limit in order to enjoy life to the max (so Pepsi also falls into this school of thought too).

O
Oakley reckon if you fired a shot gun point blank at the lens of a pair of Oakley glasses, the lens wouldn't shatter. The technology behind the super-fly wrap-round shades is mind boggling just like the numbers, facts and figures which surround metaphysics main man, Gottfried Leibniz. He was a philosopher and mathematician who apparently produced a crude calculator. Yet his legacy still remains unshattered to this very day.

P
Prada - a fashion veteran who sits in the throne of the establishment yet at the same time remains cool, futuristic and with new and exciting projects shooting out from her aching hips like multiple satin layers of a Renaissance bustle. Prada is the very regal Quetzalcoatl feathered serpent Queen of clothes and fits well into the Mayan Philosophy - archaic, adorned in ethereal jewel colours but focused on the future (as in 2012).

Q
Queene & Belle are Anti-Purist in their approach to cashmere preferring to make "bizarrely beautiful" knitwear that's bright, quirky with a woven overlay of passion in every piece.

R
A Rick Owens collection is more than just Gothic, it's much more modern and cutting edge. It's Gothic Radicalism - connected and culminating in the work of Freud. The slinky black tops expose nipples, the patent spiky leather cuffs restrict, a collar appears to strangle a woman and force her head back. They all point to repressed sexual energy which eventually becomes underground and perverse.

S
Suicidal Tendencies make caps with their name emblazoned on the front so there's no need to be coy about your mental state and vulnerabilities anymore. And if you're that way inclined, empower yourself with philosopher Albert Camus's book the Myth of Sisyphus - it outlines suicide as the most fundamental question in philosophy - is my life really worth living? Suicide cases become less tragic and more academic this way.

T
Topshop is long established yet continues its popularity well into the 21st century, like Immanuel Kant a leading light in today's western world of Enlightened knowledge, logic and reason. In terms of fashion, we still live in the era of Topshop and their garb is most reasonably priced too.

U
Uniqlo is bright, lovely and international. And guess what, reader? There's a philosophy that taps into that universal look. K'ang Youwei's Ta T'ung Shu - meaning "One World Philosophy".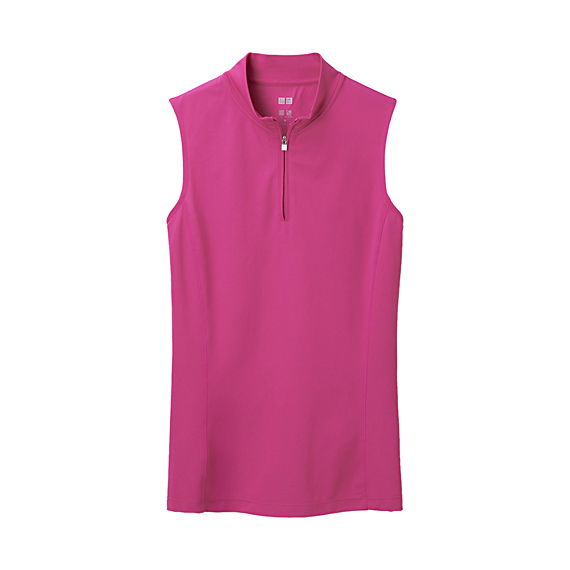 V
Versace make clothes that help you get laid and is therefore invested in the animalistic side of human nature. As such Versace should hold tightly in their paws the work of 17th century philosopher Rene Descartes who still holds great influence in today's practice of animal rights.

W
Vivienne Westwood's Gold Label goes tribal this season and Vivienne herself is a real cavewoman feminist and much more, like Simone de Beauvoir who was a writer and existentialist as well as a feminist. Prop up your bosoms with a Westwood corset and go and gather some food for the lilly-livered man in your life. Me in Westwood. You just a Shame.

X
X-large boasts Beastie Boy Mike D as a share-holder. It's fresh, cool and very hip hop culture so it's unfair to lumber X-large with a fusty old philosopher. Instead we'll attach them to a now-defunct (but still modern) band from the Bronx, Boogie Down Productions. The band's relevant credentials here being a track titled My Philosophy, which was later sampled by the Beastie Boys in Paul's Boutique track, B-Boy Bouillabaisse.

Y

There's something inherently samurai about Y-3, luckily you can buy the clothes without adhering to the "Bushido" - the code of conduct for samurai warriors. As a modern day Huffington Post Style reader you can probably wear Y-3, watch Ghost Dog and listen to Dead Prez just enough to convince your mates down the pub that you're a ninja.

Z
Zoo York like Versace are interested in the people as animals metaphor, except with this streetwear brand the subtle suggestion is that we're... caged! Utilitarians would justify caging beasts for the greater good but I'm sure the brand's name is ironic. Thus Anti-Utilitarian is born.