Shannon Finnerman is a Los Angeles born, PR Account Manager at Brand Revolution in London. She is getting married to Jack at LA's Bel Air Bay Club in August 2013. Shannon and Jack met at university in San Francisco and they have been together for over five years. From arranging the venue to finding her dress, Shannon explains the ups and downs of organising her wedding so far:

Jack proposed to me in June 2011 during a trip to Cornwall and we have been enjoying a long engagement ever since. It was important to both of us to save up money to pay for our own wedding as we wanted the freedom to plan it how we wanted it. We also didn't feel the need to rush the planning process so we have been doing each step little by little and finally have reached a point where it is all coming together.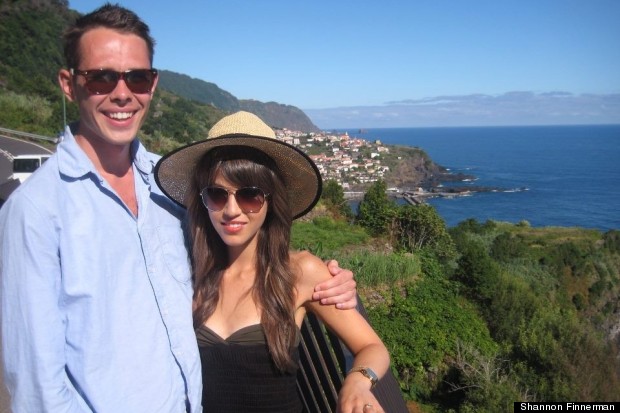 Some might think we are mental for planning a 200 person wedding from half way across the world, but it was important for me to get married in my hometown and Jack loved the fact that August in LA would be guaranteed sunshine.

I am not using a wedding planner, but fortunately have an on site coordinator included in the venue and also a very proactive fiancé, family and bridesmaids. Whilst I don't have a specific theme, the wedding is black tie, with a vintage influence and jewel tone peacock colour scheme.

The Venue
In April 2012, we went back to LA to visit my family and go on a venue hunt. Prior to our trip, I had arranged site visits with my top places (within our budget). Sadly after going to each of them, we still didn't find anywhere we were in love with. Since a lot of people were going to be travelling across the world, we knew we had to have place with a view, and not mundane hotel banquet room that could theoretically be located anywhere in the world. We also wanted to have the ceremony and reception in the same venue, because trying to transport 200 people (half of which are out of towners) would potentially be a logistical nightmare.

Another key factor was that all the food and production needed to be inclusive in the venue. Alas we came across the Bel Air Bay Club - a gorgeous cliff side members club that overlooked the sea and offered everything that we needed. Of course it was a bit over our budget, but we both decided that it was worth it and as Jack put it we should "go big or go home". We booked Sunday 11th August and so far, the event co-ordinator Lisa has been an absolute dream with helping us plan for the day.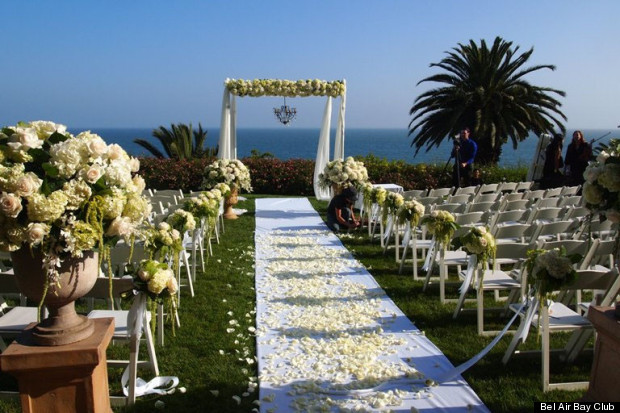 The Flowers
I hate to admit it, but don't know a THING about about flowers. I love they way they look, but couldn't tell you ten species if I tried. Luckily my florist Delphine at Delphinium Designs has been a lifesaver. Flowers can be ridiculously expensive and instead of trying to force me in to break the bank, she has stuck to my budget and supplied money saving alternatives. Since I am planning this from London and she is in LA - Pinterest and Skype has made this process doable. It is amazing that I can pin flowers and colours that I like on my mood board and based off that she is able to organise the flowers for the wedding.

The Photographer
Kelly from Sweet T Studios is incredible. Finding the right wedding photographer is key but it can be difficult to find the right look. Unfortunately, they can also be incredibly expensive so it is important to always be upfront with your budget. Kelly was recommended by my florist and turned out to be a dream come true. Her photos are spot on and she gave an incredible rate, as we she's supplying us with an online gallery. This way we can easily share the pictures with out friends and family around the world.

The Dress
I waited over a year from being engaged to even try on a wedding dress. It was so unlike me because I am very into fashion and love to shop. Whilst I would often look for inspiration, it was important for me to do my first round of dress shopping with my mum, grandma and best friends back in LA.

I went home for the holidays in December. I had planned to just try on dresses for fun however, the only place that was open was a place called Winnie Couture. We were greeted to a champagne arrival and I entered the amazing showroom to find countless dresses in the styles and colours I wanted. To my surprise, many were within my budget and available for me to try on. I kid you not; the first dress I tried on was the one. I stepped out and and everyone teared up. All I can say is when you know you know. They took my measurements and because I placed my order that day, I got 20VIRTUAL-hpGallery-292017%