MyDaily's Celebrity Reporter Ellen Stewart managed to stay composed when she met Harry Styles and found it effortless to make chit chat with Henry Holland. But when she came face to face with a certain long-haired comedian, her inner fan girl took over...

What's the deal, yo? I totally managed to keep my cool (kinda) when I schmoozed with One Direction heartthrob Harry Styles and Jamelia and I are totes besties after we met in the loo at the Playboy Club, but when I bumped into Noel Fielding at Warner's post-Brits party, sponsored by Samsung and Belvedere, I made an epic fan girl fail *cringe*. While guests filled out the O2 Arena for the 2013 Brit Awards, I was nattering away to hairdresser Emma Rees at her trendy Blow Bar salon in Islington, getting ready for another night on the tiles. As Em backcombed my barnet into a respectable undo, I told her all about the party I was off to and my plan to hunt down and befriend Nick Grimshaw. She laughed and told me I was hilarious. I don't think she thought I was serious.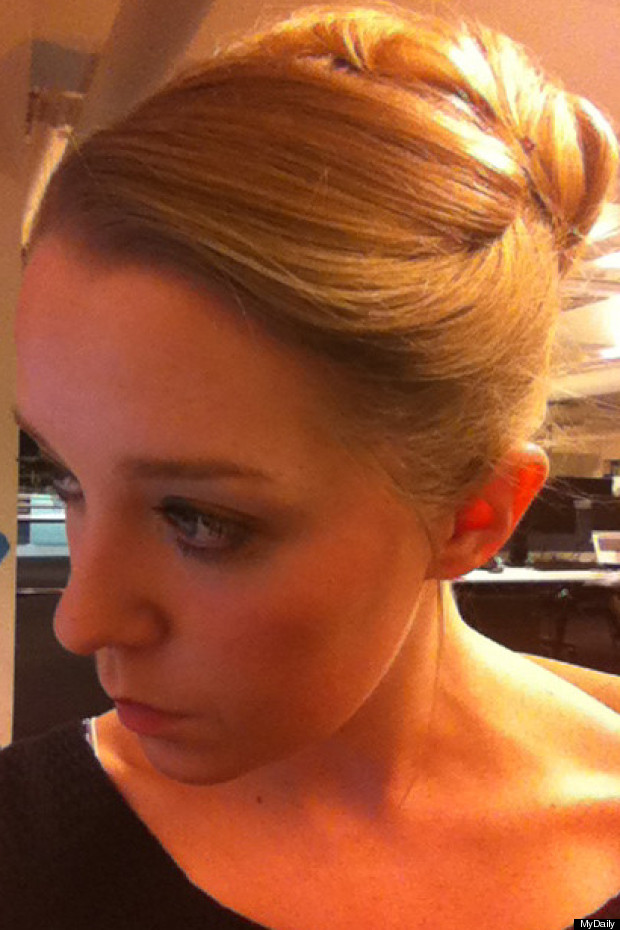 Anyway, after beautifying I slipped into my Sixties style dress (Topshop, actually) and made my way to the ultra-grand Savoy Hotel. Embarrassingly for the photographers on the door, I got papped. When they look back at their camera roll and realise I'm a no one they'll be annoyed they wasted their batters.

Glass of champers in hand (again) I tottered round the ballroom in my six inch heels and as I crossed the dance floor I heard a girl in a short bodycon exclaim, "I can't stand here for god's sake I've got no knickers on!" What? I looked down and realised we were standing on a mirrored floor – yeeesh! Worried that a sleb might catch a glimpse of my undies, I quickly skirted off (excuse that terrible pun).

In my haste, I almost knocked down Kate Nash, Miquita Oliver and Bip Ling who were all hanging out by the bar. "We're waiting for a few more of our friends to arrive," said former T4 presenter Miquita. I didn't know it then but it turned out that these "few more friends" were actually a whole harem of celebs including *deep breath* Jaime Winstone, Jack Whitehall, Holly Willoughby, Nick Grimshaw, James Blunt, Marc Ronson, Zara Martin, Wretch 32, Stooshe, Zoe Tapper, Amber Artherton, Shingai Shoniwa, Mark Ronson, Kate Hudson, Matthew Bellamy and Alexander Burke. Phew!

Flipping 'eck these guys love to move in big FAMOUS circles. Nursing my drink on my ones for a while, I spotted Noel Fielding, as in THE Noel Fielding, as in Vince Noir from Mighty Boosh, as in my weird celeb crush. Before my head knew what my body was doing I was sitting next to him, tapping him on the shoulder and saying, "Hi Noel."

"Hi," he said, and then it all went downhill. I was not cool. I was SO not cool. I can't even remember what I said but it ended with, "I really love you." Sh*t.

I've been having horrendous flashbacks about the meeting ever since. Luckily, Holly Willoughby swooped in and distracted Noel with her flowing conversation – who knew these two were mates? I was left to pick up my dignity and attempt conversation with Nick Grimshaw, who was waving frantically at someone on the other side of the room. It must have been a busy evening for Grimmers because when I asked him what he'd been up to he'd totally forgotten that he was at the Brits at all.

Before I decided to call it a day I hugged it out with MyDaily's favourite DJ Sam Hall aka Goldierocks. Working a summery cowgirl dress, she remarked, "I should probably dress like a urban DJ but I just want to look like a country singer." I LOL-ed and scooted off home.