This show's not about fashion, says Will Gore, it's about copying other reality shows. But that's not such a bad thing...

Before I get the first of my weekly trawls through Britain and Ireland's Next Top Model underway, it would probably a good idea to 'fess up and admit that as far as fashion goes, my knowledge stretches to two words: Blue Harbour.

Strangely though, not giving a toss about tall women wearing weird clothes puts me in a good position to write about a show that seems less interested in fashion than in aping other crap reality shows.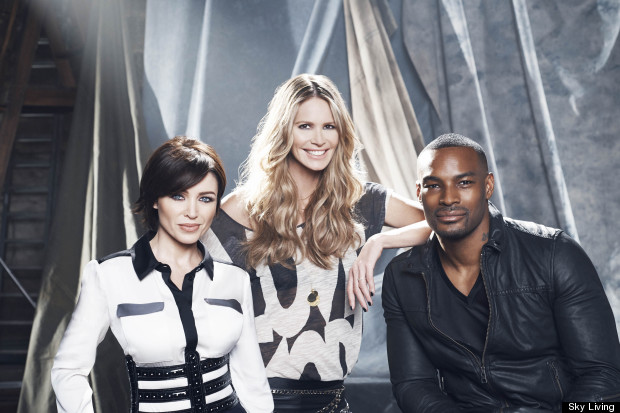 So what reality reheats did we get for our money in last night's opening double bill? First up there were the obligatory clips of the contestants in their hometowns. Janay from Leeds said the word "like" 300 times in 30 seconds and revealed, not so surprisingly, that her family find her "loud and annoying", while Emma, another Yorkshire girl, attempted a London accent so bad it made Dick Van Dyke sound like Ray Winstone. Another highlight came when a whispy Irish girl patted a horse.

Other reality TV tropes included a very poor man's version of The Apprentice house, complete with wobbly flat-pack furniture, and the judges, or two supermodels and Dannii Minogue as I'd prefer to call them, also did that thing where they marched into a succession of rooms in single file.

Poor old Dannii. Deemed more annoying than Louis Walsh and thus discarded from X Factor, here she's billed, rather optimistically, as a "fashion designer, model and superstar", but is clearly out of her depth. And when you're out of your depth on a show as vacuous as this, you know you're in big trouble.



Dannii did her best to contribute but could only muster inanities like "she's got a symmetrical face" and "Sarah, relax your eyebrow!" In the meantime, Elle ran the show and Tyson had a snooze, waking up occasionally to leer at whichever girl had wandered into his eye line.

In the first episode, the wannabes were given the chance to walk in a straight line and have a natter with the judges. In these short chats not many of them painted then themselves in the best light unfortunately.

Pick of the bunch was Angel, who told the judges she was "kooky and weird". The strangler's gloves were a strong visual clue, but then she said was going to do something that would prove her kookiness incontrovertibly. Everyone waited intently before she demonstrated the art of, er, taking a deep breath. She's probably on the wrong show – David Walliams would have gone potty for it on Britain's Got Talent.

By the time the second episode was underway the group had been whittled down to 14, and they were quickly living the dream at a wedding show in a Birmingham warehouse followed by a photoshoot directed by that renowned art director, Dannii.

Once all the photos had been taken and assessed it was decided that smiley Scottish fruitloop Carolyn Chalk, was the first contestant that had to go. She grinned manically through the pain in the way only a contestant who has been booted out first on a reality TV show can, before adding she wouldn't let this experience "crush" her.

What's to come for those left in the competition might just crush a few of them, though. At one point, former Miss Ireland, Holly, said that modelling is "a dog eat dog industry". I presume she meant to say it's "a girl eats half a bit of lettuce and three diet pills" kind of industry, but we caught her drift. The bitching is well and truly on its way.

LOVE THIS WRITER? Follow him on Twitter @WillGore.