Where were Elle and Tyson this week? And how do you make a foot look pretty? Will Gore on the latest episode of Britain And Ireland's Next Top Model

Being a judge on a reality show such as Britain and Ireland's Next Top Model seems like a pretty easy gig.

In this week's episode supermodels Tyson and Elle were only on screen for about twelve seconds, popping up at the end to pore over the latest pictures of the wannabe walking mannequins. Presumably while the majority of the show was being filmed they were back at their respective homes counting their appearance fees and laughing at us.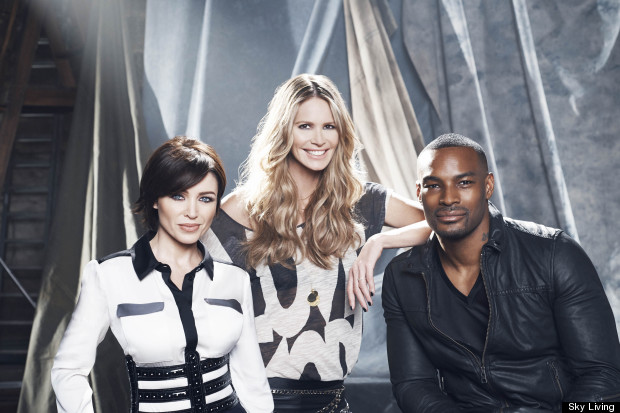 Unfortunately for Dannii, she isn't afforded quite the same level of leniency as her fellow judges. She might be, as the programme told us in opening week, a "fashion designer, model and superstar", but clearly she's the junior partner on the judging panel. While Tyson and Elle had their feet up in front of Coronation Street, everyone's second favourite Minogue was sent to a freezing beach to help direct this week's photoshoot.

The girls had to pose with some beefy male models, wearing nothing but their jeans. When they were introduced to the boys some of the contestants were nervous, others were excited. Laura was firmly in the latter camp. "When they walked in I could hear my ovaries calling," she squeaked.

As the photoshoot unfolded, top marks went to Naomi for her recreation of that scene from When Harry Met Sally. Yet it turned out that draping yourself over a half-naked bloke on a sandy beach while Dannii Minogue witters banalities like "just make sure that foot looks pretty!" at you isn't everybody's idea of fun.

Irish beauty queen Holly attempted to have her picture taken with the palms of her hands apparently super-glued to her bristols. Jess looked about as comfortable as someone in traction after a particularly nasty motorbike crash.



When Johnny-come-latelies, Elle and Tyson, along with Desperate Dannii, came to make the final decision on who was to be axed, as well as the beach pics, they were also given feedback from some walking sessions that the girls took part in with a couple of big knobs from the fashion industry.

The first fella, Ben de Lisi, played here by Ben Stiller, made some pleasantly bitchy comments and did some cruel impressions of the girls' strutting. The other expert, who I think might have been Boy George, got the girls to wear a series of ludicrously arty outfits (apparently only available in Littlewoods), including asking Jess to wear the most sinister mask seen on telly since the IRA pulled on their balaclavas.

This was not to be the final indignity for Jess this week, I'm afraid. After her poor showing at the beach, it was she who was given the portfolio of doom and shoved out the back door. "I've done so many crazy things I never thought I'd be able to do," she reflected. Wearing a stupid mask, getting patronised by Dannii Minogue, and having her picture by bloke who once took a few snaps of The Saturdays. These were a few of her craziest things.

CATCH UP
Read all the latest on Britain and Ireland's Next Top Model here.