Hello!
So this is my first post here, scary stuff! Today I will be recreating a Katy Perry make up. I have actually decided to dedicate the month of May to this totally gorgeous lady as she is always fun and fearless with her make up which I believe are the two fundamental things to always be! Another reason I chose Katy Perry is because she has brought out her own range of eyelashes for Eylure so I will incorporate a pair into the look each week.
Click on the link to veiw the picture that inspired this weeks look: http://www.aleh-cya.blogspot.co.uk/2012/05/hummingbird-heartbeat.html
So to kick off the month I have gone for a make up that she sported to the 2011 Grammys. It's a really colourful, sparkly look and she manages to make it sexy and wearable. As the weather here in London has been so miserable I thought I would do this look to try and inject a little colour back into our lives!
Products used in the video:
Eyes:
Mac Parfait Amour eyeshadow on mobile lid (large flat brush), Clarins Vibrant Violet eyeshadow in socket line (Mac 217 blending brush), Take a clean Mac 217 blending brush to soften edges, Mac Golden Olive pigment under lower lashline (slanted angle brush), Rimmel Exaggerate Black waterproof eyeliner on outer edge of inner eyeline and inner upper eyeline, Chanel Onyx Noir Ligne Extreme liquid liner, Eylure Katy Perry "Cool Kitty"(!) eyelashes, Apply a small quantity of Mac Mixing Medium gel to a small synethetic brush and place on the mobile lid leaving the "V" area blank, again using a small synthetic brush place the iridescent glitter on the mixing medium, L'oreal Black Volume Million Lashes mascara on top and bottom lashes.
Lips:
Mac Pink Nouveau lipstick
Cheeks:
MyFace Cosmetics Paradiso Pink blusher up swept up cheekbones (Chanel 4 blusher brush)

So that's week one done and dusted, I hope you enjoyed the look!
I will be using this space solely for my make up but I also have a personal blog http://www.aleh-cya.blogspot.com which incorporates both my make up and my life so please feel free to check it out.
I'll be back next week with the next Katy Perry installment so see you then!

Love Alessia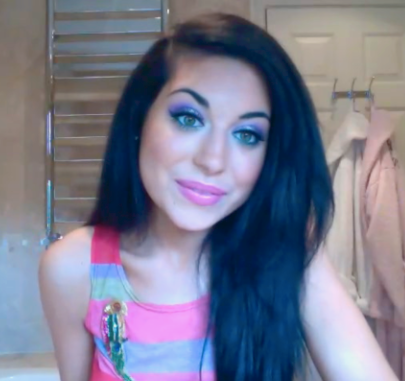 xXx