Tyson Fury labelled David Haye "nothing but a little girl" ahead of their anticipated bout in Manchester on 28 September.
Unbeaten 24-year-old Fury and his team have agreed terms with former WBA heavyweight champion Haye, whose fight with Manuel Charr on 29 June was called off after the British fighter suffered a hand injury.
Haye will go into the fight as the overwhelming favourite but Fury, who beat American Steve Cunningham in New York in April, reckons he has enough spirit to see off the 32-year-old Londoner.
"He has the Hayemaker, I have the playmaker," Fury proclaimed. "I bring it to every fight. Everyone he has fought including Klitschko I would smash to bits. I am glad this little b**** has signed up and is here.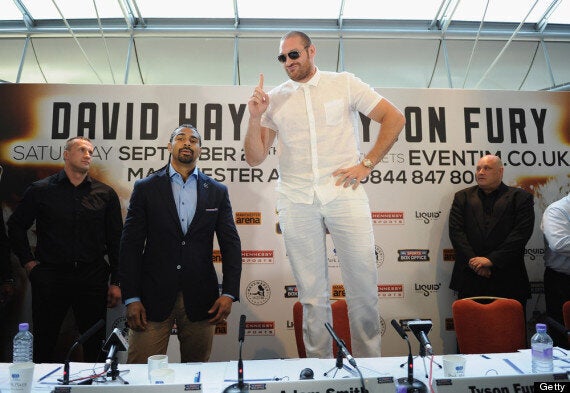 "He fought Nikolai Valuev, John Ruiz, Audley Harrison, Wlad the robot. He couldn't hit a robot. Good work, sir. You are a stepping stone, sir. I have a little fly swatter, sir, and you will get flattened. I will prove I can. You are nothing but a little girl."
"I'm going to train hard and I'm hoping for a fight - I'm not hard to hit and I will stand in front of you, but I land bombs if they land them," he said.
Fury did concede that if he lost the fight he would admit to his opponent being the better boxer, but he also feels he will be too strong for Haye if he can keep his emotions in check.
"People might want to see Tyson Fury get knocked out because I might be the brash talker and say a lot but I have backed it up so far," Fury added.
"If David can beat me then congratulations to him, he will have put me out of my misery, there will be no hard feelings at all. If I lose to the better man on the night, what can I do?
"I can only train right, eat right and sleep right and give everything I've got - if he beats me, he beats me. I can't do any more than what God has given me to do. A man can only do what a man can do but I believe what I can do will be good enough to beat not only David Haye, but the Klitschkos as well."