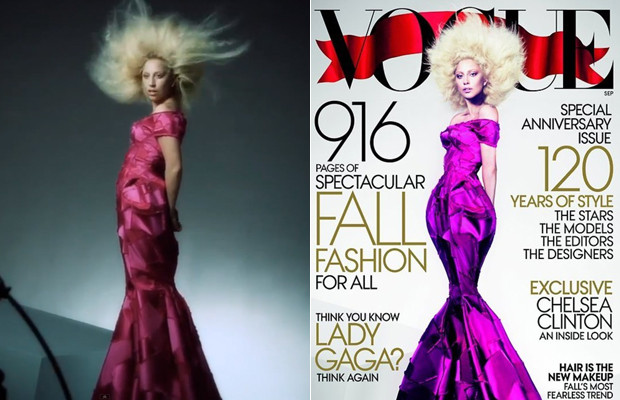 Lady Gaga graces the cover of US Vogue's September issue - we already told you that AAAAAGES ago - and she looked kind of like the fashion lovechild of a purple Quality Street and a candlestick.

Then Vogue uploaded the behind the scenes video footage of the shoot and now there's a compare 'n' contrast going on between the finished cover image and the raw video. Buzzfeed have asked "I wonder why people bother with the original photography anymore when the end result is basically just a photo illustration."



We've had a discussion in the office (cups of tea were consumed, fingers were pointed and Venn diagrams were drawn) and our conclusion is as follows:

*dramatic pause*

Lady Gaga has spent her career trying to look anything but ordinary, embracing all manner of impractical clothing, restrictive footwear and fantastical wigs. For goodness sake, GIRLFRIEND WORE STEAK TARTARE TO THE VIDEO MUSIC AWARDS. So if there was anyone in the world who we wouldn't expect to look girl-next-door or even remotely natural on the cover of Vogue's September issue, it's her.

PLUS there's the whole thing where we don't feel that Mert Alas and Marcus Piggot's Lady Gaga photo was manipulated to make us want to change ourselves or become her (unless you're REALLY into niche Quality Street/candlestick porn). It's just an arresting cover image.