When I first set eyes on Helen Steele's SS12 collection, with its vibrant prints on sumptuous silks, I immediately thought it would make for a great story on modern florals, perfect for Chelsea Flower Show week. But then I got closer and discovered these weren't florals at all but abstract prints which opened the gateway to an intriguing world of thrash metal, duck farming and bungee painting...

Irish artist and fashion designer, Helen Steele, works from her studio in what she describes as "the lush rolling hills of Monaghan, poet Patrick Kavanagh's homeland" in a converted duck hatchery. Not as odd a choice as it may first appear when you hear that her husband is a duck farmer who, according to chef Heston Blumenthal, produces the best Peking duck in the world. From this unusual base, she creates fine art, for customers including fashion luminary and internationally reknowned print queen, Diane von Furstenberg, as well as fashion range, using some unconventional print-making techniques.



From Helen Steele's Spring/Summer 2012 collection.

Helen felt her degree in fashion was not sufficient to build a fashion business on and knew from graduation that she needed to develop her own style of painting to compliment what she had learnt in college. She tells me, "I went and studied art and then worked with a South African artist, Patrick O'Conner for three years where I developed my own style. I was lead singer and songwriter in a thrash metal band at the time so I would work on painting during the day and gig at night, which was some experience. I think it added a sense of chaos to my work and to my approach to creating art". Helen adds, "The plan was always to come back to fashion with more experience, life experience, artistically, and within the industry."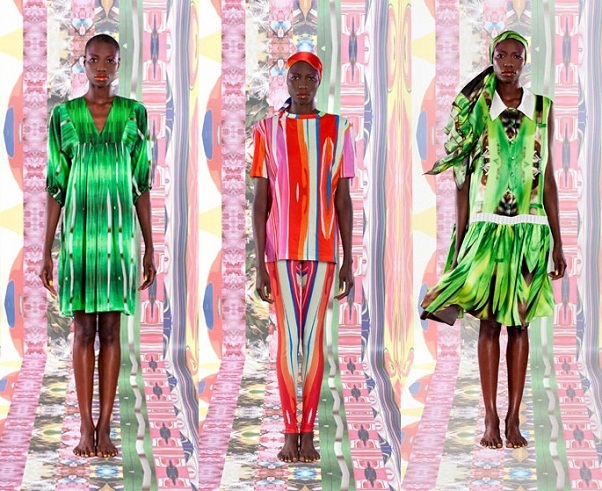 From Helen Steele's Spring/Summer 2012 collection.

Steele's innovative approach to creating pieces of art which often become prints for her fashion pieces includes experimenting with the use of wind machines, fireworks, forklifts, and 'bungee jump painting' to get paint moving by itself. "My approach to fashion I would like to think is similar [to creating art]; I see each garment as a luxurious canvas to paint on, to create a work of art with print. We create all of our prints from paint, with the aid of wind machines we get paint mixing in the air and we capture the process by making a performance art video of each print being made. We film and photograph everything, finding the essence of action paint, which I believe is capturing colour mixing and forming beautiful shapes and images at speed."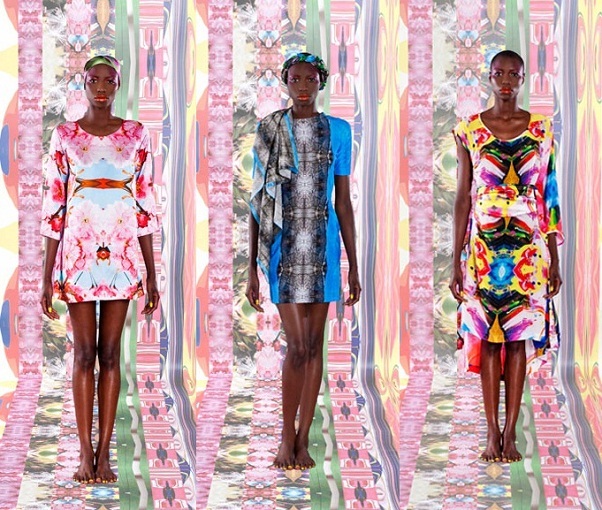 From Helen Steele's Spring/Summer 2012 collection.

The energy and passion are tangible as Helen talks about her work and processes. "When a painting is dry the images have gone and are dried, the life and energy of the true art is what I consider dead. We capture live art and make our prints from these bright energetic images that can look nearly 3D. The thought process and inspiration work in the same way."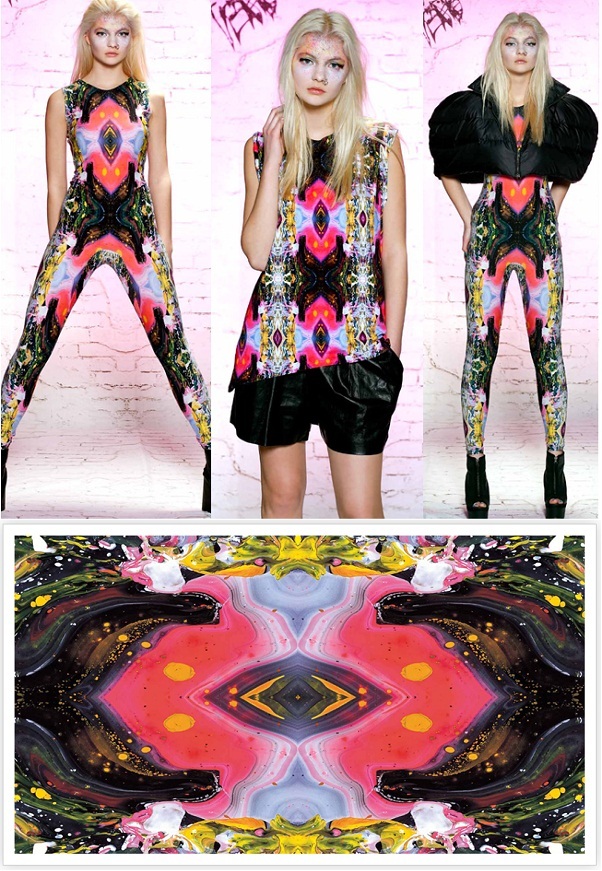 The 'Fallopian Tube' print canvas and the fashion interpretations from Helen Steele Autumn/Winter 2012.

Given her rock n roll background, I wanted to know whether music inspires her. "I suppose some of the work is influenced by some life experiences like working in a thrash metal band which was colourful to say the least. I think all forms of art influence me, film,music."

Namechecking artists from Irish band The Virgin Prunes, Nirvana and My Bloody Valentine, to Air, The Beastie Boys and the Noisettes, Steele also has a lot of love for her client Jessie J for whom she is busy creating some special one-off pieces at the moment, "Jessie J is amazing; super voice, great strong personality and a good role model - as a mother its great to see strong independent women in the music industry. Jessie has some of our pieces and wore our Fallopian Tube print catsuit [pictured above] on stage at the Future music awards in Sydney which was great."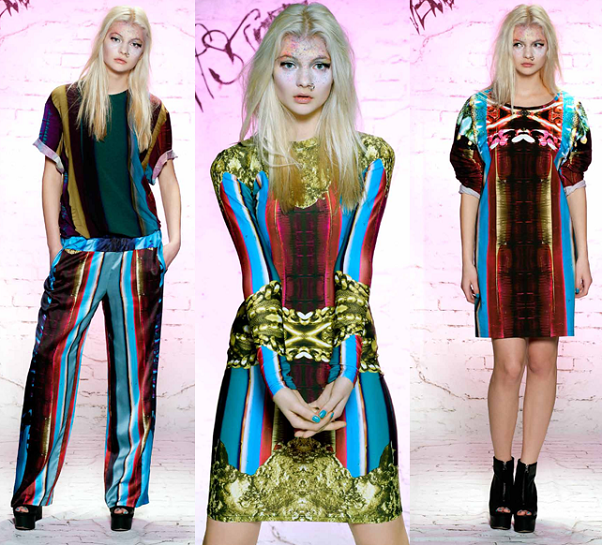 From the Helen Steele AW12 collection.

I adore the lush, garden fresh colours of the SS12 collection and have my eye on the sleeveless green shirt dress (pictured second top) which has the most beautiful movement to it, complimented by the stunning print. Having seen a preview of the Autumn/Winter 12 range with its punk-meets-90s raver vibe, and plays with proportion via slick, body con catsuits in futuristic prints, worn with neatly voluminous mini puffas, Helen Steele the fashion brand is clearly only getting stronger.

So what next? "Part of the five year plan is to create Helen Steele Home, which would be a printed interiors range all made in the same unique way this would complete the sceal - Irish for story - so... want it, wear it hang it on a wall or sleep in it. I would love to create a video performance print whilst orbiting the planet in a time capsule but that's really future tripping!!!!!" Helen Steele is stocked internationally - visit her website for details and to view the full collections: www.helensteele.com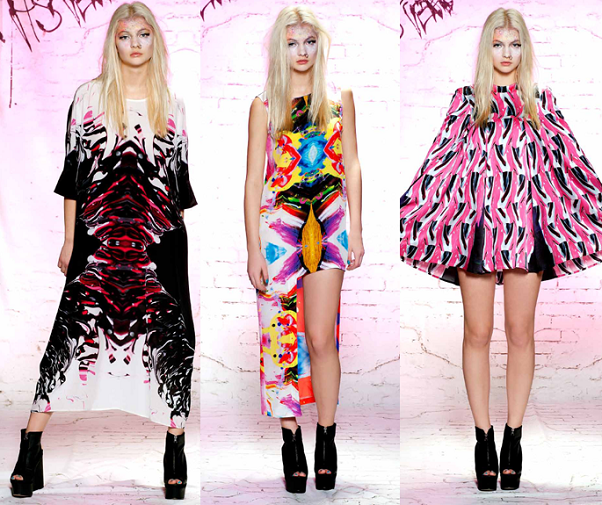 From Helen Steele's Autumn/Winter 2012 collection.