We're used to seeing Emma Stone in effortlessly flawless red-carpet gowns or in carefully selected ensembles on the streets of NYC and LA in her downtime, but yesterday we got to see another side of Emma's wardrobe - her on-set style.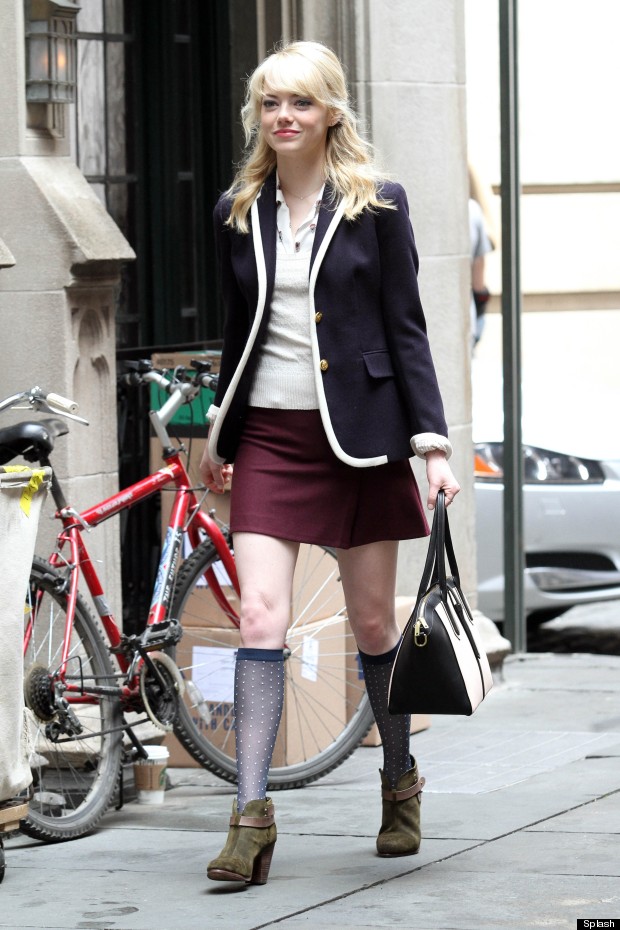 Reprising her role as Gwen Stacy in the second Spidey movie, inventively titled The Amazing Spider-Man 2, Emma has been hard at work on the real-life film set that is New York City. The 24-year-old actress is starring alongside her off-screen boyfriend Andrew Garfield in the much-anticipated flick and looks to be enjoying every minute of filming. Smooching the leading man who is also your actual boyfriend sounds like fun work to us.

But, we digress - it's Emma's style we're talking about and yesterday's outfit was definitely something to discuss. A far cry from her sophisticated personal choice of threads, Emma donned a cheeky, schoolgirl-esque ensemble for the long day of filming. A maroon mini, opaque stockings, shoe boots and a navy blazer with bright white piping.made up the look. It's definitely not her usual fashion flavour, but we're always fans of changing things up in the name of work

Enjoy Emma's slick style in our gallery...