It looks like a Hogwarts-worthy magic spell but, in reality, it's a beetroot-based doggy dye.

Emma Watson's furry friend turned into a fuchsia friend after being semi-permanently transformed bright pink in the name of Breast Cancer Care.

The Harry Potter star was quick to point out that the dog, called Darcy, is not hers but a friend's, and that the bichon frise's cerise makeover was raising awareness for the disease.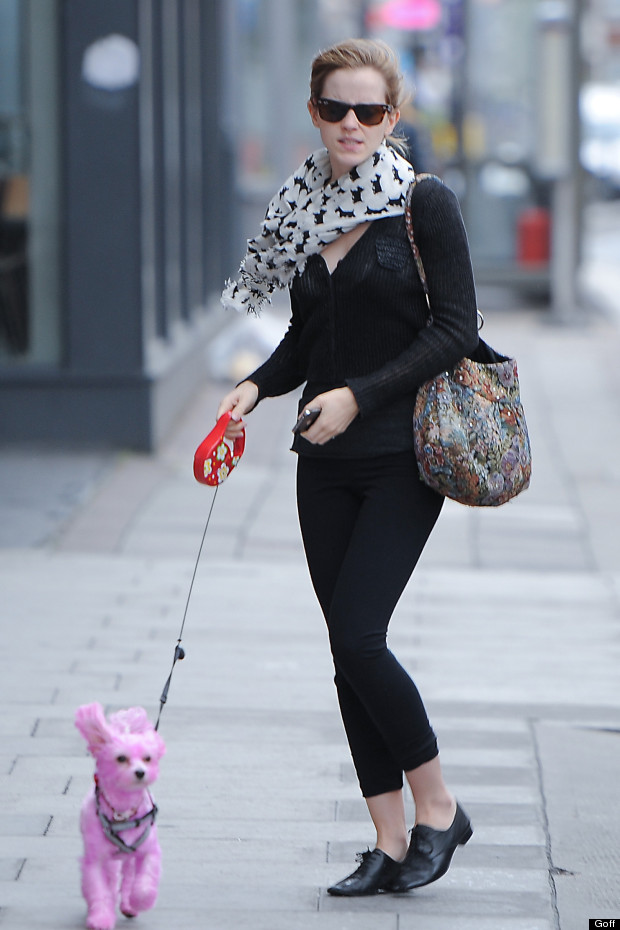 Darcy underwent her transformation at Groom Dog City where, owner Stuart Simons said, all the dyes are safe and animal-friendly.

He told the Daily Mail: "Pink is our biggest colour, but I do look after another bichon called Casper who comes in for a blue mohican.

"All the dyes I use are completely animal-friendly. They are made from vegetable dye.

"I wet the dog, rub it on like a shampoo, leave it for five minutes and then wash it off. Because Darcy is white, it takes really well.

"She is a very calm dog, absolutely lovely, and she enjoys her groom."

Hitting back at critics who suggest it is cruel, Mr Simons, whose own dyed dogs have featured in campaigns for Mulberry, says: "Lots of people say it's cruel to dye a dog but I say, it takes no time, it doesn't affect their skin and they don't look in the mirror and go, "Oh, I'm so embarrassed."

What do you think? Is canine-colouring cruel? Or is it fine if it's just for charity? Leave your thoughts below...

See more stars and their best friends here (OK, most of these are human, but you get the slightly tenuous link)...