And on the fourth day He said let there be light! In the world of Fashion Priest, this clearly means the illuminated Fashion Scout runway. So, continuing my crusade to convert style sinners at LFW, I set off in Mark Fast's fishnet dress with floor length pink feather fringe and Sophia Webster hologram thigh highs to feast on the first collection of the day, Eugene Lin.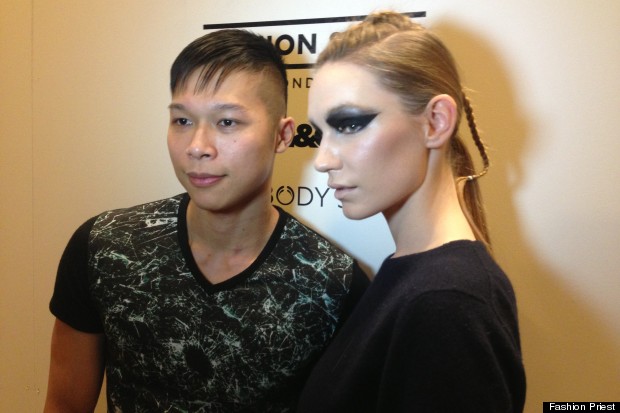 While having my make up refreshed backstage pre-show time, Limerick model Grace Connell told me horror stories from the Emerald Isle, where donning pyjamas tucked into UGG boots on the high street is STILL not punishable by law. "Heavens above!" I preached. "St. Patrick needs to chase that evil out!"

I trotted out to my seat on the #FRow and while scanning the company one would be keeping runway side, who did your emissary's eyes see? The one and only "Sh*t Fashion Girls Say" P'Trique! The Platform sartorial vlog patron was a vision in skintight floral print, rose tinted glasses and a neon pink half turban.

After six air kisses, he declared the colour black must fall back into the darkness, and that the new LBD is a backless sequin jumpsuit. Amen to that!

The lights started to dim and so I swooped back to my seat. Designer Eugene had given me the lowdown backstage so I knew the collection was a modern telling of Cupid, Aphrodite's lovechild, but such romance I never did anticipate.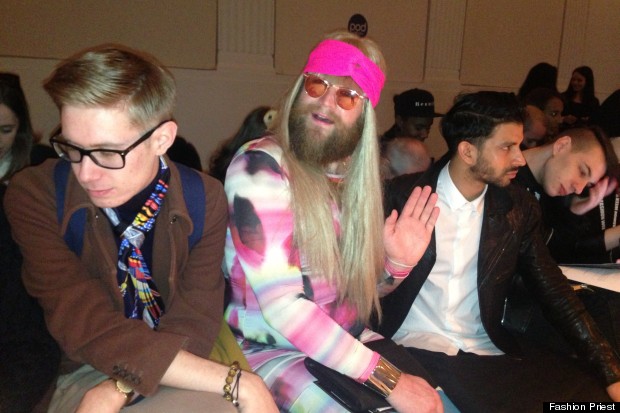 Dresses were embellished with golden bullet style detail and the Black Swan-inspired eye make up was a revelation! I said a silent prayer and clasped my rosary beads.

Having seen such a vision, I needed to replenish my senses and so I dashed off for a swift Aveda seaweed eyelash treatment. In the fast, technological world we live in, I always think it is truly imperative for one to reconnect with nature.

Back at Freemason's Hall, I resumed my position FRow for the irrepressible designs of Fam Irvoll and what ensued can only be described as 'Skank Chic'.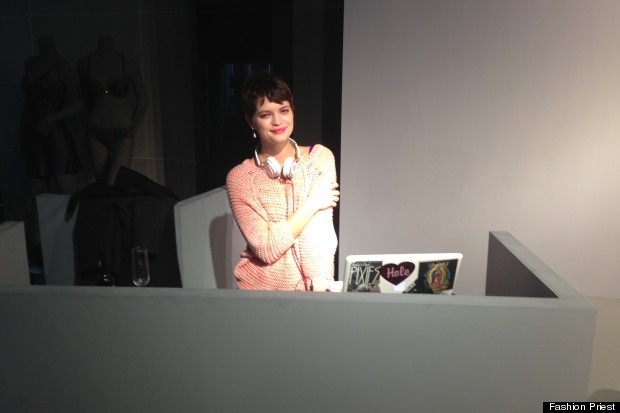 Models swaggered down the runway with backward "YOLO" print caps, "LOL" tagged shoes, drawn on eyebrows and neon pink and blue everything.

I thought to myself, "God must truly love the good people of Dalston, for he has made a designer who designs clothes especially for them."

In need of a reviving champagne, I floated to the Calvin Klein new store launch party on Regent Street with gal pals Pixie Geldof, TOWIE's fashion lady Lydia Rose Bright, Made in Chelsea's Oliver Proudlock and Rosie Fortescue, MTV's Laura Whitmore and Lilah Parsons, Radio 1's Sarah-Jane Crawford, LFW DJ Goldierocks, and...ALL the male models.

As I always say, God is good. God is great.